A small, modern guest house with air-conditioned housekeeping units, situated on the water's edge of the North Shore in Pembroke Parish. Fantastic ocean views with deep-water swimming, snorkeling, small pool, and patio with barbeque. A convenience store and bus stop are nearby. Located one mile from Hamilton. All units are Non Smoking.
This is a SMOKE FREE PROPERTY (No smoking in rooms or on the grounds)
P.O. Box 2417, HM JX, Bermuda
Tel: 441-292-1690
Fax: 441-292-6891
| EMAIL US | VIEW ON MAP | MAZARINE GENERAL INFORMATION
Amenities:
Reverse cycle Air-conditioning
Cable TV
Hair dryers
Ironing boards and irons
Pool Towels (for use on property only)
Internet
All rooms equipped with refrigerator, cooktop, microwave, toaster and coffee pot as well as glasses, dishes, cutlery, pots and pans
Daily housekeeping service (except for Sundays and Public Holidays)
Room 1: Garden view with partial view of ocean. 1 King bed – bathroom with shower.
Room 2: Garden view. 2 Twin beds made up as King unless twins requested… can accommodate third person on a rollaway cot. Bathroom with bathtub & shower. This is the only room that has a full stove with oven.
Room 3: Ocean view. 2 Twin beds made up as King unless Twins requested. Bathroom with bathtub & shower
Room 4: Ocean view. 2 Twin beds made up as King unless Twins requested. Bathroom with shower only.
Room 5: Ocean view. 2 Twin beds made up as King unless Twins requested. Bathroom with bathtub & shower
Room 6: Ocean view. 2 Twin beds made up as King unless Twins requested…can accommodate third & fourth person on a sofabed. Bathroom with bathtub & shower
Room 7: Bungalow, separate from the main building, with 1 Queen bed. Bathroom with shower only.
Around The Property
Testimonials
My family and some of our friends just returned from a week's stay in Bermuda. We were guests of the Mazarine by the Sea. This delightful guest house is situated on the north shore of the island, a minute from Black Watch Pass which leads directly into Hamilton. The location is secluded yet convenient to the main city and the bus lines. The suites were well appointed, the crystal clear pool was only a few steps from our rooms and just beyond the pool, the ocean provided us a snorkeling haven. However, the best part of our stay had to be the incredible, 180-degree view of the bay from our room. We would definitely rebook our room if we ever travelled again to Bermuda. I highly recommend the Mazarine by the Sea.
Regards,
Kathy Murphy
Massachusetts, USA
(July 2011)
---
"We had a wonderful time…your place is absolutely beautiful. We are seriously considering returning again this summer"
(April 2011)
---
"We had such a great time at Mazarine last year that we want to return this summer. Last year we were sitting in the pool, daydreaming, just looking at the ocean we saw 4 spotted eagle rays swimming along the shoreline…it was the most amazing sight".
Brian. Calgary, Canada (April 2011)
---
Mazarine was exactly what we were hoping for and more, The view was amazing. The location was perfect.We walked to Hamilton a few times, it was such a nice walk. We are hoping to be back next year and wouldn't want to stay anywhere else but Mazarine by the Sea. Thank you for having such a lovely place.
(Wednesday, October 29, 2008)
---
It's been just over one week since we've returned to the U.S. from Bermuda – and we're still kinder, friendlier, gentler, and better people due to our vacation. Our stay at your beautiful Mazarine by the Sea was a big part of that. Your family and friends took care of our every need in the most unobtrusive but sincere ways. Our thanks to Rhonda, Dianne, Albert (taxi) and Dahlia (housekeeping). Everything was SO clean and well-thought-out. Little touches like the lace tablecloth, hairdryer, places to dry wet clothing, tourist info. from previous guests, kitchen essentials including wine-opener, the supersoft blanket, TV/radio combo, heat-lamp, etc.. Pool is fantastic! Best "water-side" dining around! Local markets so nice. Deep-water swimming w/ fish beautiful. Quiet. Calm. Restful, but energizing. The perfect stay in our idea of heaven! We'll be back! Thanks again!
Valerie and Scott Fralick (Tuesday, September 23, 2008)
---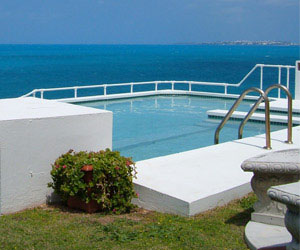 Hi Rhonda,
We just wanted to let you know how much we enjoyed our trip to Bermuda and our accommodations at Mazarine. We hope to return to Bermuda at some point and perhaps we'll see you again.
Thank you for everything.
Kevin and Sherab (April 2010)
Contact Us
P.O. Box 2417, HM JX, Bermuda
Tel: 441-292-1690
Fax: 441-292-6891
| EMAIL US | VIEW ON MAP |