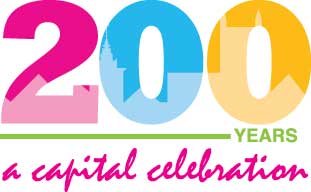 by Nadia Hall
This year marks the 200th anniversary of the City of Hamilton as the capital of Bermuda. "We're not sure of the exact date because the original ceremony got rained out, back in 1815," Ed Christopher explains with a voice like burnt honey. As Town Crier, he's an expert on all things Hamilton. A towering, sky-scraper of a man, his dulcet tones fit for the silver screen, it's easy to imagine how he made it to his 21st year as Town Crier, but how did it all begin?
It's because the Queen was coming. Actually, I am the first, ever, town crier for the City of Hamilton.
I played a pirate on Hawkins Island
[a popular party venue] and during the course of that, Roger Sherratt who was the Secretary of the Corporation [of Hamilton], saw me and thought I would be a good person to have as Town Crier. He then asked, would I be Town Crier for a DAY?! [Laughs.] Everybody loved it and I liked it too. I began with small duties around the city. I would welcome the cruise ships, that sort of thing. I was working at HWP [car dealership] at the time and during my free time, my lunch, rather than sit around I decided to get dressed up and come to town.
He sits before me in full regalia. Who made the uniform?
The original uniform, my wife made. If you go in the museum at the aquarium and you look at their collage you'll see me in a maroon uniform tossing a bell. After that I got an official one made in the UK, by a seamstress for the show Madame Butterfly. The next uniform [local seamstress] Liz Campbell made it, it was all black with gold, and the one I'm wearing now is brand new and was made by a young lady in Exeter [UK]. These are the official city colours, gold and blue.
A brooch shimmers on his necktie; a bold crest on his chest pocket.
[He points to the brooch.] The [Bermuda] onion, to identify who I am – and very happy to be so! [Then pointing to his chest.] This is the city crest. It depicts the shipwreck of the Sea Venture and the city motto: Sparsa Collegit – bring together the scattered. That's what it means. It's about people coming together. People were scattered all over the island and the whole idea was to make the city a place where everybody could come. Well, it was a town then. It didn't become a city until the 1890s.
Any local will assure you, it is still "town." Ed Christoper, a self-styled "pond dog," and the rest of the Christophers, all hail from the town and the Pond Hill area. I ask him to describe a day in the life of a Town Crier.
A day varies. There's no set agenda. From April until the end of October I conduct tours of Hamilton. After becoming the town crier, I wanted to educate people on the history of Hamilton and so I did a lot of research myself. By day, I research, so I know a lot about Hamilton; finding out who Governor Hamilton was, where he came from, what happened to him, how he came to be in Bermuda, what happened to him after he left. I introduce the Mayor at official functions. I read and write proclamations for special days and occasions. No, I don't use microphones. [He laughs, knowing he needs no explanation.] I also open [non-city] functions and events, stores, cutting ribbons. Also, calls to dinner as toastmaster, marriage announcements, announcing different parts of the meal. I don't marry people. I'm not officially apt to do that. It varies and I love it. I love it all. The most important thing I do is walk around the streets [of town]. When I'm conducting tours, meeting tourists and other people from around the world, it's very fun. [Being Town Crier] you've got to be a people person. It's got to come from the heart. It's got to be natural. You couldn't do it every day for twenty years, as I have, and that not be your personality.
How do you maintain that energy?
It's easy. I just go outside. It's easy to be miserable inside. You go outside and everybody expects you to be up and to be happy and they don't realise they're my up. People are my up! I go outside and see people and it's, "Hey Ed!" or "Town Crier" or "Sea Dog" [his pirate name], they still call me that. When somebody acknowledges you, it's amazing. And you dress up! As you're getting dressed it just brings you up and up and up. Say anything and I'll do it. I just love putting smiles on people's faces.
You have won a few awards and accolades as Town Crier. Tell us about the competitions.
I entered my first ever competition in 2001 and I came out of that with the best-dressed award. In 2013, David Frith of St. George's and I, we tied for best dressed. This last time I went up, for the Kingsbridge cup, I came second. In the Dartmouth trophy, for three different cries for three different places in the UK, I came second overall by one point. I'm going back in July to hopefully return with the number one trophy [laughs]. It's great because there are town criers from all over the world. There are a lot more than people think, especially in the UK. These little towns still have their criers. I will be hosting the Bermuda international town crier competition this April. There will be 26 criers participating, coming from the UK and Canada, on the day of the Peppercorn Ceremony.
He stands, wielding his bell, and suddenly seems even taller than his 6 foot 5 inch frame.
A lot of tall people tend to bend when they walk. I walk up straight, so that does give me the [edge]. This bell was specially made for me at a Belfry in Detroit. Other bells I've had were like school bells. I felt, for my stature, I needed a bell like this. Otherwise, they'll think I'm calling them to dinner!
Walking Tours of Hamilton begin at 10:30 a.m. in the City Hall foyer.
This year's Peppercorn Ceremony will be held in St. George's on April 23rd. Before government moved to the city from St. George's, they rented the old State House. In keeping with tradition, the governor collects the "rent" of one peppercorn yearly.
For more info visit www.cityofhamilton.bm