Rebecca Singleton (Hanson) Designer of TABS (The Authentic Bermuda Shorts)
February is the month of love and if you are visiting Bermuda here are some romantic gifts and ideas for an unforgettable experience…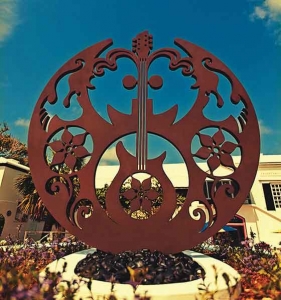 As John Lennon famously wrote: 'All you need is love' and it is in Bermuda that Lennon found his love for music again. In 1980, after a 5-year period of writer's block, Bermuda re-awakened Lennon's creativity, and it's not hard to see why! His last album, DOUBLE FANTASY, is named after a flower in the Botanical Gardens. You should really go and check it out while you are here. Make a morning of it: get lost in the pretty gardens then go round the Masterworks art gallery and finish with tea in the cute little restaurant. Make sure you check out his tribute sculpture by local artist Graham Foster as well. I love the idea of downloading his songs from iTunes (just search for Lennon Bermuda) and listening to the songs he wrote as you wonder around the place that so inspired him…. how romantic!
Nothing says romance like a diamond! Go and visit husband and wife team, "David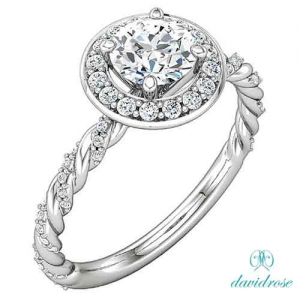 Rose" in St. George's. They are famous for their bridal jewelry and specifically diamonds. Never forget your trip to Bermuda (and have the happiest partner EVER!) and stop by this gorgeous boutique overlooking the harbour.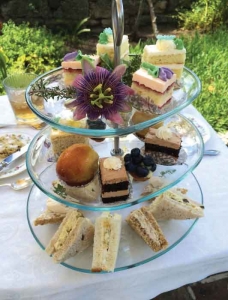 Speaking of St. George's, you HAVE to spend half a day here when you visit. Check out the Lilli Bermuda tearooms, get lost in the ancient streets, lunch at Wahoo's…and more! On
Saturdays, they even have a fun historic reenactment of the dunking of a nagging wench!
Look the part of a regular Casanova… Bermuda style! I am the designer behind TABS (The Authentic Bermuda Shorts) and we have a wide variety of Bermuda shorts, all colour matched to something you will find on the island. Order them in advance at www.tabsbermuda.com or check them out at A.S. Cooper's Man Store, Luxury Gifts Bermuda (Tucker's Point) and Coral Beach. What better way to woo your loved one island style than by kitting yourself out in Bermuda shorts and taking them out for a lovely surprise meal!
Whenever my husband and I have a special occasion we love Waterlot Inn restaurant. Grab a drink on the harbor and listen to live music and then step back in time in the gorgeous restaurant. Old world style and knock out food. Highly recommend the steak here – delicious!
I hope this article gives you some romantic ideas of things to do, see, try and wear in Bermuda… but if all else fails, just grab a blanket and head down to Warwick Long Bay to watch the best sunset in the world… and if you aren't falling in love with someone, I imagine you will be falling in love with the island.
Have a wonderful time in Bermuda!