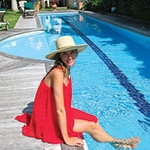 By Nadia hall
When we finally sit down for a conversation it's a pixelated appointment. Rebecca Hanson's face, just inches from mine, is in actuality 8,659 miles away in Hong Kong. "It's a proper gritty city," she informs me, genuinely surprised – the city did not meet her exotic expectations. "It's very, very cool though. Awesome food and friendly people! At night it's beautiful! That's when I like it the most." The city is quickly earning a reputation for young designers looking to expand their reach and improve the efficiency of their brand's production. Rebecca is, technically, on a business trip, visiting factories and potential retailers interested in her line of uniquely Bermudian resort wear, the eponymous short. "I like to say that you can take them from the boardroom to the boat," Rebecca claims confidently. TABS, an acronym for The Authentic Bermuda Short, is in its 3rd successful year and 2015 saw the introduction of ladies' shorts in her signature bright colourways and a swimwear line for men that launched on Bermuda Day in May.
Traditionally, the 24th marks a "true" Bermudians first swim of the year and Rebecca can barely contain her excitement as she unpacks samples to show me through the muddy screen. Despite the poor image, the quality of the garments is clear. Her trademark brights have been reimagined by manufacturers in Portugal – the go-to for the swimwear savvy – and, the icing on the cake, a limited edition printed pair. The designer collaborated with local artist Graham Foster, the painter behind the famous mural at the Bermuda Maritime Museum in Dockyard. The board shorts feature the same attention to fit and tailoring that make TABS so successful. Rather than view them as simply swim shorts, she calls her flexible product "a short you can swim in. You never know where the day will take you."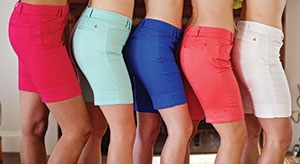 After Hong Kong, Rebecca went on to Singapore and has had great traction in some local boutiques – "I'm enjoying flying the Bermuda flag out in Asia!" She's found an abundance of inspiration in the island lifestyle of South East Asia, embracing their fearless take on colour and prints. And while her tastes, on first glance, seem to drift more toward colour than the neutral, the versatility of the garments make them a solid choice for those seeking simpler styling options. After all, there's nothing beige about Bermuda!
What is your design philosophy?
Learn. Do. Improve. Repeat.
What inspires your palette?
Bermuda! Hands down. I'm,kind of obsessed with colour.
Describe your style in 3 words?
A comfortable, colourful chameleon.
Design trend you love?
While I'm out here, I love anything with tassels. And anything multi-purpose, like those dock/swimming loafers by SWIMS.
You would never wear?
Crocs!
You save on / splurge on?
I balance each look. A nice handbag with a Primark dress. My wedding was a great example. I chose a very expensive dress and paired it with H&M shoes.
Where do you see the brand going in the future?
I see it becoming more of a lifestyle brand, with products that enhance island life. To relaunch Bermuda shorts as something trendy was my first challenge. I wanted it to be modern, but I also wanted to be true to the island. It's that lifestyle in Bermuda that's just so fabulous!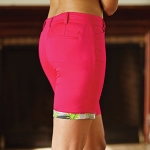 TABS are available at A.S. Cooper Man and Main stores on Front Street as well as the Regali Boutique by Luxury Gifts Bermuda at Rosewood Tucker's Point.
http://www.tabsbermuda.com