Exclusive Premiere – The Secret Lives Of The Humpbacks
Every year, whale researcher and filmmaker/photographer Andrew Stevenson follows humpbacks on their annual
migratory route from Bermuda to Northern Canada, then down to the Caribbean and back.
Over the last decade he's collected fascinating data including both Underwater and Ariel video
footage of the whales in action. He has successfully identified over 1,273 whales by photographing their
unique fluke tails, and his catalogue is one of the largest in the world
captured by a single person.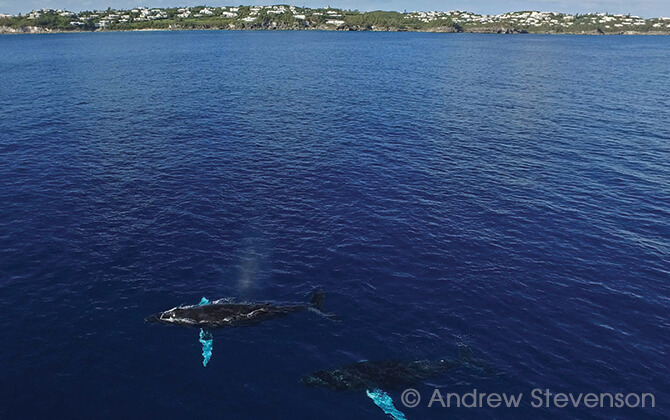 In recent years, he's been working on a sequel to his award-winning 2010 documentary film, Where The Whales Sing,
the first ever film to win the prestigious Charman Prize awarded by Masterworks Museum.
 The beauty of Bermuda and its marine life take center stage in this new film, The Secret Lives of the Humpback Whales,
which provides a unique window into the lifecycle of the humpback whales and their-mid-ocean migration.
The 43-minute family-friendly documentary will premier at Specialty Cinema on Wednesday February 20th,
promising to bring awareness, educate and inspire. This long-awaited film highlights the importance of protecting
the environment and it's treasures, to bring power to the viewer through knowledge that
can build a legacy for future generations.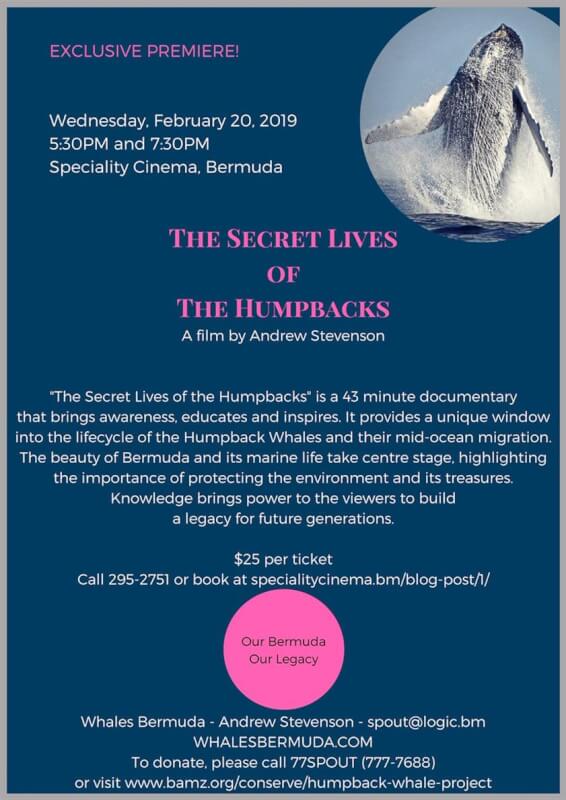 There will be two screenings tomorrow, February 20th, at 5:30pm and 7:30pm.
Tickets are $25 each and available from the cinema box office, or by calling 295-2751.
To make a donation, contact 77SPOUT (777-7688), or visit bamz.org/conserve/humpback-whale-project.
For more information, contact spout@logic.bm or visit www.WhalesBermuda.com.