Experience July in Bermuda – A few suggestions from us to you.
Go on a jet ski adventure
Just imagine skimming across Bermuda's turquoise waters, the wind blowing through your hair, while you take in all the beautiful scenery and sites around you. K.S. Watersport's Jet Ski Adventures offer a fun and exiting experience suitable for persons of all ages and skill levels. Whether you're a novice or an experienced rider, they have a Jet Ski Adventure that will suit your needs and have you coming back for more! 
kswatersports.com   
Take a historical rowing tour
Put your rowing skills to the test in a new tour that lets you take the oar in a historic Bermuda pilot gig. The pilot gig seats 6 passengers and was developed in the 1880s, used to transport the local pilot to incoming sailing vessels. Enjoy the scenery as you row around the East End,  you'll cruise by and between the many historical sites and islands of St. David's – Bermuda's unofficial "10th parish". 
Info: 441 707 5000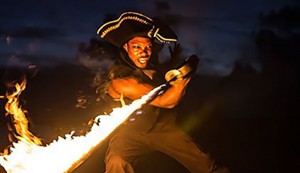 Catch a pirate fire show
Experience July in Bermuda with Calico Jack's Floating Bar and Rockfire Productions as they bring you an experience you will not forget at Calico Jack's Pirate Fire Show Performance. Every Monday and Thursday at 9pm, you are invited to come explore the magic of their pirate-inspired fire show and join in their journey to see who will be the last pirate standing – crowd participation is a must! All ages are welcome and admission is free.
Info: 441 504 5225
Discover Bermuda's thriving fashion industry
The Fashion Festival is a widely-anticipated event and now in its 8th year running, The Festival for 2016 has pulled an international following with a number of prominent designers and models from around the globe, to showcase amongst local talent. The festival will begin on Sunday July 10th, opening with the 'Evolution Retail Show', presenting collections from local retail stores all over the island. Monday will see the 'Hair & Beauty Show', followed by fashion shows presenting works by local and international designers on Tuesday & Thursday.
 Info: bermudafashionfestival.com