By Nadia Hall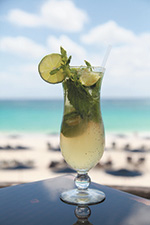 Summer in Bermuda is synonymous with time spent in, on or by the sea. With beaches making up a significant part of our physical and spiritual landscape, it's only natural that we should feel right at home at lofty Sea Breeze. The Lido Complex, now comprised of four uniquely successful branches – Café Lido, the signature modern brasserie; Mickey's the beachside bistro; late night dance spot, Deep Nightclub and the aptly named Sea Breeze Lounge on the terrace – has long grasped the key to our hearts.
With so many places seeming to emulate the success of big city restaurants, you have to ask what has led us to fall so out of touch with what this beautiful island has to offer? The sun, the sea and eating al fresco make for a winning combination. Of course, some might argue that Sea Breeze's stunning Elbow Beach location gives it an unfair advantage. Head Chef Serge Bottelli understands. He moved to Bermuda in 1979 from Switzerland, falling in love with the island, building a life, a family and now an excellent Tapas menu. "We've adopted the concept of tapas," he explains of a menu that doesn't follow its strictly Spanish origins. "You're to think of them more as small plates, food for sharing. Every year we try to do something different, taking inspiration from worldwide, looking at what worked and didn't work in previous years." This is a man who refuses to lose touch with what the customer wants. The new menu is now categorized simply as Vegetarian, Meat and Seafood with a separate sushi menu. Previously the dishes were characterized by region. He presents a beautiful platter of colourful sashimi, nigiri and maki rolls, with glistening orange roe. The accompanying mixed platter is an eclectic mix of east meets west, global bites. The updated menu still offers firm favourites alongside new stars like octopus stew, house made spicy chorizo, Bloody Mary oyster shooters, and crostini with smoked salmon and horseradish. Sections are marked clearly as "From the Sea" or "From the Land" with highly accommodating gluten-free signifiers beside the relevant dishes.
Dessert cocktails are a popular post-savoury favourite, the perfect sweetener for sunsets and their popular Friday party hosted by The Big Chill. There's a new arrangement this year including soulful, female vocalist Kassie Caines and pianist and fellow warbler James Woolf. "Housexy," a 3 DJ House music Ensemble, follows at the Deep Nightclub until 3:00 a.m. Saturday nights play host to Deep Social Club from 10:30 until 3:00 a.m. with DJ Felix spinning dance music from the 70s, 80s and 90s until now.
Dinner is served everyday from 5:00 p.m. to 9:30 p.m. with a bar menu until midnight. There is also a delightful a la carte breakfast from 7:00 – 10:30 a.m. with healthy choices all freshly made to order.
Phone: 1 (441) 236 9884
Address: 60 South Shore Road Paget Parish, Bermuda
Email: manager@lido.bm