By Nadia Hall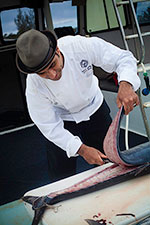 "You're going to think I'm crazy," Chef Adel Agamy begins. "I think of presentation like a wife or girlfriend. It's crazy, I know!" The object of his affection is reimagined in similarly enchanting components: a beautiful dress, sweet perfume, the right shoes. "It's the same for the plate. I need a nice piece of wahoo, good flavour, nice plate." He builds the dish in the same way, with the same "crazy" passion reserved for a lover, thinking carefully about how he will season or cook the day's catch. "Fish is sensitive," he warns, "not like meat or chicken. And you must be very sensitive when you deal with my wife," he adds, laughing. A plate of his spicy tuna tartare is brought forth and I can confirm with a dropping jaw, she's a knockout.
Chef Adel has been at the Fairmont Southampton for five years, but this is his first season at the Ocean Club. Originally from Egypt he transferred from the Fairmont Cairo after winning a competition between 336 hotels all over Europe. Cheffing is something of a family affair. You could say it runs in his blood, which might account for that unwavering affection. "My uncles, my cousins were all chefs. I grew up hearing about food before I even went to school," he tells me, "before I even began to think about my future." And despite being far from home he's adopted the local culture as if it's his own. "We have a responsibility to give travellers a touch of Bermuda cuisine," he says firmly. The new menu, he explains, is a fresh and modern interpretation on the island classics. "I'm trying to take Bermuda cuisine to the next level. To give visitors an unforgettable experience." His offerings, while classic, infuse something modern, honouring traditions while seeking to elevate them. The blackened wahoo adds some spice and flavour to a beautiful piece of fish. The fire-roasted avocado is unexpected in a fruit that we're used to seeing served cold and raw. The tomatoes are grown on site or purchased from a neighbouring farm. He's reserved the belly of the fish, marinated in lemon thyme, to include in the topping for its great flavour. "I have to wake up at 6 every morning to get my fish," he insists, in a quest to keep the servings local and fresh.
Seafood, naturally, is the main focus at The Ocean Club and Sundays play host to a seafood barbecue on wood-burning grill. Continental Beach Breakfast is served from 8:00 AM – 10:30 AM. Open for lunch & dinner: 12:00 PM – 10:00 PM.