A Guide to Clean-Eating Locally
by Brigitta Wohlmuth
It's 2016 and thank God we're alive right!? Everyday on the news is another looming threat to our existence. From global warming to WW3, the bitter truth is that tomorrow is promised to no man… but that's hardly an excuse to surrender to the silent killers. You know what I'm talking about. The processed, GMO infused foods that slowly suck the life out of us are closer a threat to the majority than any nuclear bomb or tsunami. But just in case Armageddon does strike in the near future, the least we can do to ensure our longevity is put nutritious food in our bodies- so we're strong enough to fight the zombies. Ok- maybe I'm over exaggerating. But if there's one thing I'm serious about it's getting healthy for 2016! If you're as serious as I am (about losing the muffin top and using sick days for better things) then check out any of these restaurants for a delicious, guilt-free meal.
Yashi Sushi
(Inside Coconut Rock)10 Reid Street, City of Hamilton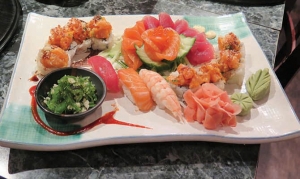 This place is great for when you're with a group of people and you're the only one who is really serious about eating healthy. Everybody loves Coconut Rock. It's been a local favorite for decades – serving both delicious, artery-hardening options as well as yummy healthy choices that will have the person sitting next to you who ordered the bacon cheeseburger quietly envying your steak salad.
It's become a sort of two-in-one restaurant since they opened up Yashi's, the Sushi Bar in the back. The addition has made it even more popular with many visitor's calling it Bermuda's best sushi bar because of the quality for price. As one traveler raved in her review on Trip Advisor:
"I have been a fan of Yashi's for a number of years and their friendly wait staff always remember what you like. The sashimi is always beautifully made, fresh and just right in my opinion. All the rolls are fresh, delicate and delightful." 
-Nicmenic
I went for an early lunch and my favorite was the 'Vegetable Roll' with sweet tofu, pickled radish and avocado. It's delicious, and fills you up with without weighing you down. I mean… you can't really go wrong with sushi right? As long as you don't order one of those trendy deep-fried rolls you can be pretty sure your stomach will thank you, then again you're allowed the odd cheat day.
Devil's Isle
19 Burnaby Street, City of Hamilton
This is the place you go when you have serious dieting restrictions and don't want to annoy the waiter by asking him for an ingredient break down of every dish. I doubt any other establishment on the island really understands the principles of clean eating better than Devil's Isle. They specialize in farm to table dining, and you can guarantee that every single item on their menu is ethically sourced, organic and as fresh/local as absolutely possible.
If you're a coeliac, then consider them your saving grace.  Not only do they have loads of freshly made gluten-free breads and pastries, but they also offer gluten- free beer, vodka and homemade, gluten-free condiments.
"We take food allergies really seriously," assures the Manager Genise Eiselt, explaining that all of their staff has to undergo training with a nutritionist first.
'All of our chefs and servers understand what it means to be coeliac, paleo or vegan. Whatever your diet is, we can make it happen."
Genise recommends 'The Harvest Bowl'- a popular choice for health-buffs because it's full of super-foods like kale, sprouts, brown rice, and flaxseed, served with a homemade dressing of your choice. Wash that down with one of their fresh-pressed juices and you'll feel super-human in no time!
You should also know the restaurant kitchen stays open late on weekends, until 11pm AND they have a take-away section called Devil's Isle Good To Go- full of healthy snacks, smoothies and delicious home-brewed, fair trade coffee.
Tempest Bistro
22 Water Street, St. George's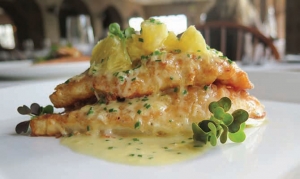 If you're ever site-seeing in St. George's and find yourself starving for a good meal then head to Tempest Bistro. This cozy-but-chic, waterside restaurant is well known for it's exquisite cuisine, winning "Best Out-of-Town Eatery" in the Best of Bermuda 2015 awards.
Owned and managed by the same team as Mad Hatters – a very popular restaurant in Hamilton, known for using only fresh and honest ingredients- Tempest opened in spring of 2014, to bring the same delicious offerings to the east end.
Fine dining is their specialty, and they're open daily for lunch and dinner. Chef Chris Laplaca is a master in the kitchen at putting a sophisticated flare on local ingredients. He says of his cooking:
"Overall I just enjoy using wholesome products that are simply healthy without any additives. Keeping food as simple and elegant as possible is the most important thing I consider when cooking."
I will never forget the meal he prepared for me- Amazing! My favourite was the arugula salad with strawberries, goats cheese, candied walnuts and a honey-coffee vinaigrette. That alone was worth the trip over the causeway.
For clean and healthy fine dining, it doesn't get much better than Tempest, and you will also be happy to know that they are sensitive to food allergies. Chef Chris assured me that he doesn't put gluten in any of his sauces and pretty much whatever your dieting preferences are he is happy to accommodate them.