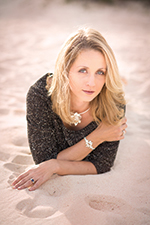 Bermudian artist Alexandra Mosher draws from the island's natural beauty to create inspired, sculptural jewellery. "I create expressive and original pieces; they're certainly conversation starters," she explains.
"There is nothing more fascinating than taking art as we know it and giving it a whole new context on the body. I make sculptures to be worn." Considering Alexandra's background as an artist, it is no wonder her intricately sculpted jewellery designs have been influenced by her studies in fine art.
"I developed a love for craft at a very young age, and was often creating little presents for my parents out of assembled found objects," she told us. "My family still has a collection of pretty little things I made them."
Alexandra studied Studio Art at the College of the Holy Cross in Massachusetts and later, Jewellery Design at the Fashion Institute of Technology in New York. She launched her line of jewellery in 2005 and since that time has won several prestigious awards for her collections.
Her process involves the ancient technique of lost wax casting; she first hand carves her designs in wax and then casts them in silver and gold in limited numbers. "I remember reading an art critic's review of my work and feeling like I was on the right path when he said he was surprised at how I could create such original pieces at such an affordable price." Although her work is highly coveted, she has something for every level of collector.
Alexandra is perhaps best known for her Bermuda Reef Collection in which she incorporates Bermuda's famous pink sand into sterling silver and gold to create captivating pieces of wearable art.
"'Is it a gemstone?' people ask me, and I just love watching their reaction when I explain how I've set our beautiful sand into each unique piece." She told us that visitors often go on to say their daughter, sister or friend would never forgive them if they didn't bring a little something from her pink sand collection back home as a gift. "It warms my heart to hear that," she beams.
Phone: 1-441-236-9009
Address: Washington Mall West, Lower Level, 7 Reid St, Hamilton, Bermuda
Email: hello@alexandramosher.com