Inspired by Bermuda's Beauty – Alexandra Mosher Studio Jewellery
by Brigitta Wohlmuth
Who is Alexandra Mosher, you ask?
She's commonly known as 'Bermuda's Pink Sand Jeweller', but simply put, 'Artist' is the title that Alexandra most identifies with. She describes her creative process as finding any means necessary to "get the vision out of my head through my hands". From crafting as a child, to painting and sculpting as a Visual Arts Major in University – she's never been afraid to switch artistic mediums over the years – eventually taking up jewellery making while living in New York, post-graduation. But she never dreamed she'd become a household name on her own island. "Basically I wanted to create my own version of a Bermuda Gem," she says, reflecting on the early pink-sand-filled designs that launched her career. Fourteen years after her humble start-up, she's an award-winning entrepreneur, with a cult following on social media, and a brand new store on the chic west end of Front Street where you can explore her evolving collections.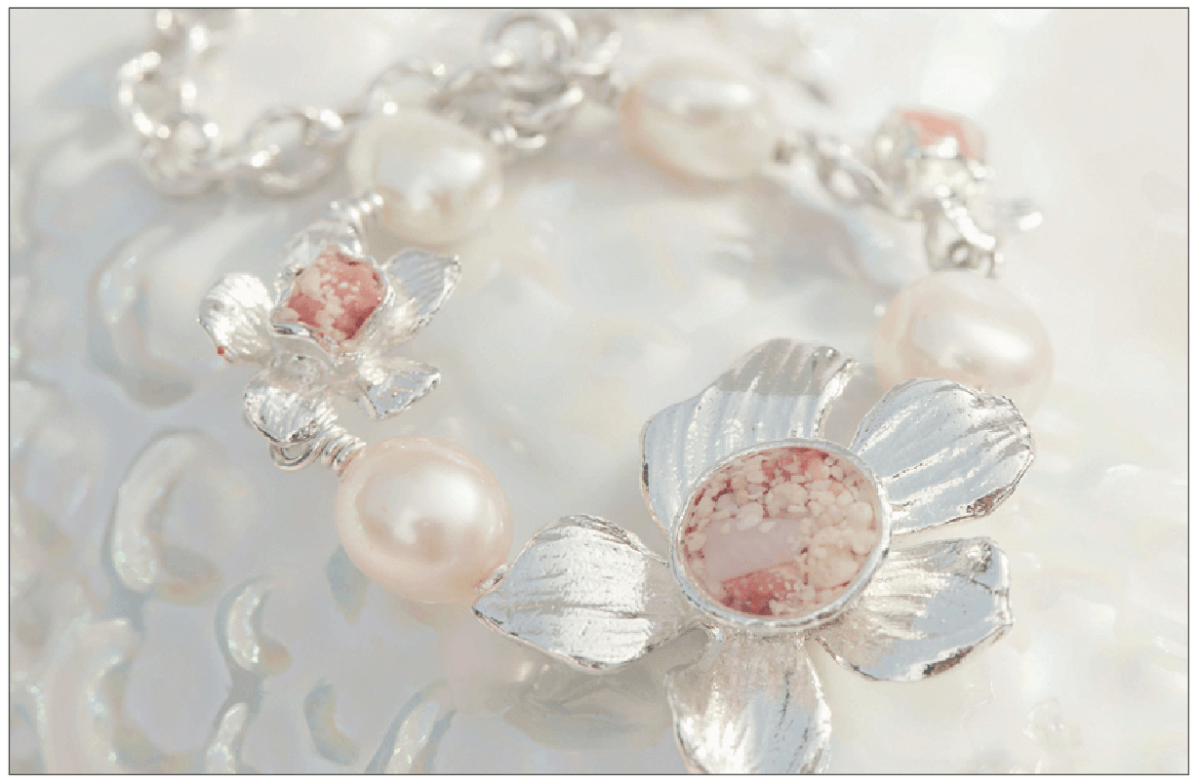 In her studio/office workshop, I'm treated to a look behind the scenes. "Imagine a trio of pale blue, purple and soft pink stones clustered in here," she says excitedly, showing me a new ring setting that she's created. Using the ancient technique of lost-wax casting, she explains how she can carve out master models like this one that will allow her to cluster gemstones together "like a miniature flower arrangement." She admits to being almost as captivated by her garden these days as by what's under the sea, but it's just as much the pink sand as it is "that handmade feeling" that's her trademark. "I like to make pieces with a unique perspective, for people who want something a bit more personal," says Alexandra who thrives off of the relationships she has with her clients. "I'm driven both by what people are looking for and what speaks to them, but also what speaks to me. It's a symbiotic design process, and it's so exciting!"  
Her work reflects the raw and organic elements found in nature – be it boiler reefs and sea shells along the coast, the delicate petals of a flower, or the wood grain texture of a palm tree.  "I'm really happy to be working with a rainbow of color again", she says, as the conversation turns to new projects. Her aesthetic has favoured a neutral palette up until now, with most of her sculptural pieces set in brilliant silver contrasted with cabochons of pink-sand, but in future, she assures me that we'll be seeing a lot more gold pieces and colourful gemstones in her work. 
In her showroom you'll find her popular coastal-inspired collections alongside newer designs that reflect other aspects of Bermuda. "I also have a case full of one-of-a kind pieces that I've made in gold," says Alexandra, adding that while everything is available for purchase on her website at AlexandraMosher.com, the store is the "sanctuary" in which to discover it all. She even won an Interior Design Award for her beautifully designed store and studio; boasting soft, powdery colours, high ceilings, and large windows framed by delicate linen drapes. Vintage display cases add a sense of luxury to the jewellery, and overall there's a really great energy throughout.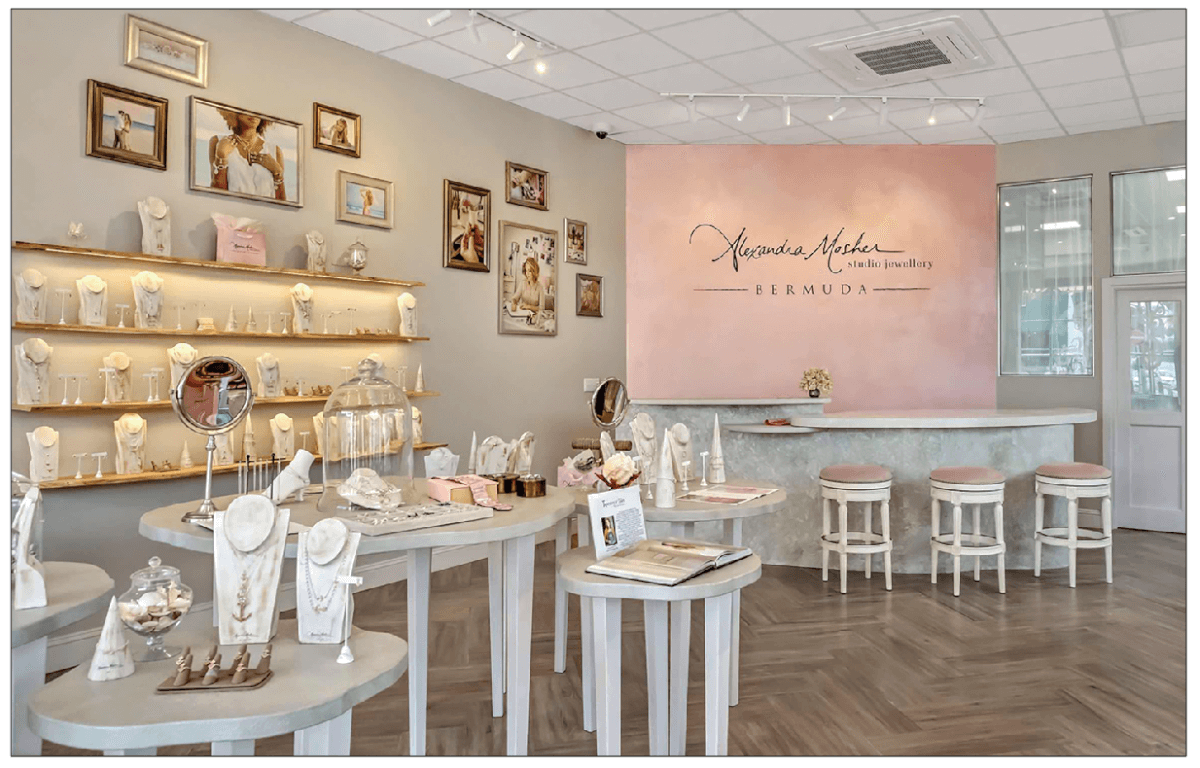 "The new  space has been a game changer," says Alexandra. Many customers are shocked when they learn that every single piece of jewellery is made on site. "Here we can really show people our process, and that's the best part," she continues. Her studio lies just beyond the showroom, and her team offers behind the scenes tours.  
To have come this far in just over a decade – from a one-woman-show to building a team of empowered women – proves that with passion and perseverance (and the help of a few pink-sand fairies), dreams really can come true. 
Visit Alexandra Mosher Studio Jewellery's Flagship Store & Studio at 5 Front Street in Hamilton, and be inspired too! It's a delight to explore and you can find your own handmade treasure to serve as a reminder of your time in paradise.
Call 441-236-9009 or email hello@alexandramosher.com.
Shop online at www.alexandramosher.com
Follow her on Facebook and Instagram at alexandramosherstudio
Read more stories about Alexandra Mosher Studio Jewellery here: 
Made you look! Alexandra Mosher and Amanda Temple Photography