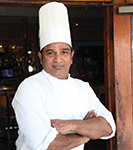 By Nadia Hall
The Beach is a somewhat facetious name for an establishment that sits roadside. On the corner of highly trafficked Front Street and Parliament Street, it's just as prime a perch for people watching as the actual beach and you don't have to worry about getting sand in your shorts.
Bermuda Bistro has gone through something of a transformation since it's former life as simply 'The Beach.' Once synonymous with fried food and burgers, the menu has evolved to accommodate the changing tastes of its guests. A healthful and hearty breakfast menu, a brand new tapas menu for sharing, and a refurbished bar menu offering local and global flavours alongside the aforementioned fried food and burgers, are all part of the changing face of this popular day to night spot. Chef Johnny Simoes moved to Bermuda from Goa 22 years ago. After lengthy stints at longstanding establishments Tom Moore's Tavern, The Royal Bermuda Yacht Club and Swizzle Inn, he's experienced many facets of local cuisine and, as a result, has really come to understand what people here really want. "I know the client very well in Bermuda," he says confidently, "the kind of food they want, their tastes." Over the years he's made many friends and developed a kind of loyal following. Often taking tips from his wife, also a chef at the Bermuda Institute of Ocean Sciences, his Goan background is a clear influence on the food he makes. He was the mastermind behind Swizzle's famous Curry Night. The South Indian region's historically Portuguese ties also weave effortlessly with Bermuda's deep Azorean connection. (The Portuguese-Bermudians make up a significant percentage of the population.) A keen cricketer and footballer, he's firmly established himself as a valuable member of the community.
"Rick
[Olson, owner and restaurateur] gave me a lot of freedom in the kitchen, unlike other managers. That's what chefs need." Chef Johnny has made a lot of changes in the four months he's been in their kitchen. The chicken lollipops, a new addition, have his characteristic Indian Spices and a tandoori batter, while the trademark Bistro appetizer of wahoo nuggets have been updated with ginger pickle mayo. The Dark & Stormy ribs with his house-made rum and ginger barbeque sauce sweet and smoky and just fall off the bone. There's a kick in the sauce, no doubt from the fresh ginger and a fruitiness from his not-so-secret ingredient, pineapple juice.
The favourites still remain: the ever popular fish sandwich and gourmet burgers, and each day hosts its own weekly special. Jack Mondays showcase their Jack Daniel's BBQ sauce, Pizza and a Pitcher Tuesdays are self-explanatory, while Wahoo Wednesdays feature their famous locally caught wahoo fish dinner. Burger and Beer Thursdays, Fish Fry Fridays and Bombay Saturdays (a curry special, naturally) see you through the week. The kitchen is open until midnight with Happy Hour specials running from 4 o'clock until 7. (8 on a Friday.) Check out their Ladies night, Champagne and Laughter Infused Thursdays.[/fusion_text]