One Weekend In Bermuda – An Itinerary Made For You
By Belcario Thomas/ Certified Tourism Ambassador
FRIDAY – Afternoon Arrival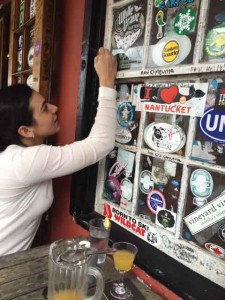 Officially sign into Bermuda with a pit stop at the legendary Swizzle Inn.
Tip: Try the conch fritters or fish sandwich.
Next, grab a show at the Bermuda National Gallery, City Hall & Arts Centre located in the City of Hamilton. Enjoy a display of island culture featuring rotating art and world-class artists. You just might luck out and catch local sensation Joy Barnum, singing jazzy renditions and original numbers sure to stir your soul.
SATURDAY – Go West, Friends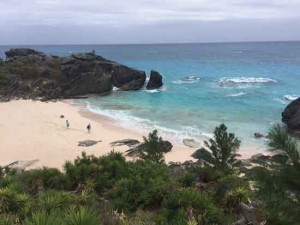 Exploring Paradise is easy along the South Shore Park. Wiggle your toes in the pink sand trails that stretch along several world famous beaches including Warwick Long Bay, Jobson's Cove, Chaplin Bay and Horseshoe Bay.
Next, head to Dockyard and pop into Woody's on the way (a local fav) to satisfy your appetite and hear some bonafide Bermudian accents.
Tip: Try the award winning fish sandwiches and of course, fresh rum swizzle.
After exploring the attractions in Dockyard, seeing the island from the ocean is a must-do. Do it cheap and cheerful with a scenic ferry ride into Hamilton. The city is a great place for people watching.
Tip: Chill out at Rock Island Coffee on Reid Street, or D'Angelini's Café next-door to the Ferry terminal.  Or stop in Glaze Bakery, the island's most popular digs for fresh baked goodies. 
SUNDAY – Lose Yourself in the East
History, culture, beaches, when Mark Twain said "You can go to Heaven if you wish I'd rather stay in Bermuda" he may well have been talking of the east end. The untapped beauty of Cooper's Reserve and the blue lagoons of Tom Moore's Jungle call for exploration. Move through the UNESCO gorgeousness that is St.George's and enjoy the Unfinished Church, Fort St. Catherine, and a pit stop at the #1 east attraction Tobacco Bay beach bar.
Travel underground through Grotto Bay hotel's network of caves for a candlelit massage, surrounded by the soothing sounds of water dripping from overhead stalactites into unbelievably crystal clear water. Fully immerse yourself in the experience and cap it off with a bottle of champagne in the cave's fully serviced lounge.
Experience Bermuda's skyline with Blue Sky Flights. No less than a bucket list life experience, take to the skies and soar over the island with awe inspired scenes out of the movie in your dreams. Seasoned veteran pilot Heather, takes you on an unforgettable cruise, sharing in the blissful freedom of a smooth Cessna flight that will absolutely be one of the highlights of any trip to Bermuda. Flying unobstructed into the mid-Atlantic sunset dazzles with a landscape of blue skies turning pink-purple-orange and pastel-coloured homes, below is simply amazing. No wonder many a proposals have happened mid-flight, you never know, you might end up chasing a rainbow.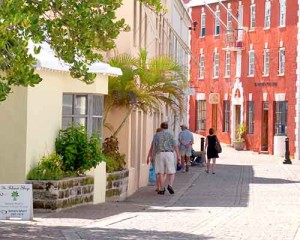 Tucked amongst and throughout the back-alleys of the oldest western colony in the world, this town is rich with stories, told non-the-better by the witty, engaging and thought provoking cast of characters in the most special Haunted History Tour led by Kristin White.
The new kid on the block, The Tempest Bistro Restaurant & Bar provides old warm charm, fresh daily catches and attentive service. Tip: Try their Sole or duck dishes and don't miss out on their cheesecake crumble.
MONDAY – Morning Departure
Any beach at sunrise in Bermuda is pure magic and the ideal send off to your trip…till next time.