By Brigitta Wohlmuth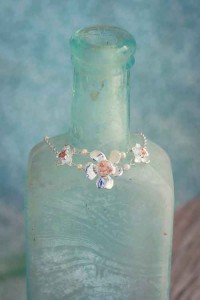 She's at it again! Bermuda's original pink sand jeweler, Alexandra Mosher, has been busy as a bee since we last interviewed her in December. For those unfamiliar with the local celeb, Mosher is famous for creating wearable handmade sculptures inspired by Bermuda's environment in her Alexandra Mosher Studio Jewellery. Nearly a decade ago, she found her niche in the market by merging art with fashion, and has been steadily growing her brand ever since.
From the land to the sea, her designs always reference the island in unique and whimsical ways. Just visit her store in the Washington Mall to find a tangible piece of 'Bermy magic' to take back home with you;  she has some gorgeous new designs in store for the season…
What's been going on since we last met? 
I've been working on a lot of new pieces. I'm really excited about my new sand pieces; I've designed a little seahorse, turtles, and dolphins. And I've also expanded my highly coveted Caviar Collection.
Which do you prefer to make, the abstract pieces or the shapes? 
In the beginning I only designed abstract shapes, but over the years so many people have asked me for specific shapes that I just had to carve them!  Someone suggested recently that I design a crab and an elephant, and I always thank them for their ideas!   I just love it when people get exited and want to be a part of the design evolution of my pieces. But I really enjoy what happens when I make the abstract pieces. They just kind of grow… it's a very different process and it makes my heart sing. With the sand collection pieces I start with a little block of wax and carve down into a refined shape. For the abstract pieces like my Melt and Caviar Collections, I build up the design in an additive process.  Both are based in wax, but each technique requires a different mindset. With the abstract work I'm growing a piece rather than finding a shape within a chunk of wax – it's more free-flowing.
What do you have planned for this summer?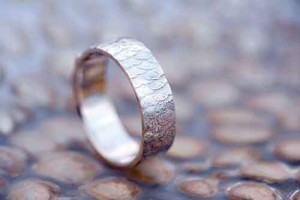 Wedding season is upon us in Bermuda, and I am really exited and proud of the bridal collection I've created out of Bermuda textures. Each style has just enough of the textures to be really interesting – each one is abstract and organic, a signature of my work.  With this series I'm literally pulling textures directly from nature and embedding them in the surface of the metal. This collection is so pretty, I'm thrilled to be adorning the left hands of couples who love Bermuda!
I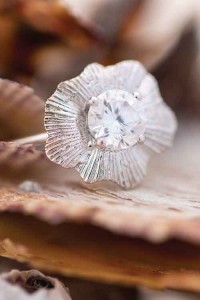 bet you do a lot of bridal pieces… 
We do. I've always done them by request, but now I have a whole cohesive collection. The men's wedding bands have been out for about a year. The engagement rings and women's textured bands have been out for just a few weeks. I've been developing them quietly all winter and just launched them.
And everything is handmade here in Bermuda? 
We have a team of Bermudian artisans, which I lovingly call my "sand fairies," because, well, why have a regular boring job description when we have this much fun? (laughs). I'm still a big kid at heart.
You're a Certified Tourism Ambassador, how does that tie in with your work as a jeweller?
We aim to delight visitors in every way, whether it's helping someone find just the right jewellery treasure, or finding the best place to have lunch.  Our staff are pretty awesome and very conversational, so when you come in, you're really going to get to know us and we want to help you find that little piece which really represents your Bermuda experience.  We also try to inspire our overseas friends via social media – we were just named one of Experience Bermuda's 10 Instagram Accounts to Watch, and we try to share our Bermuda love stories at every opportunity.  Our new window will be a "Cabinet of Curiosities," a collection of stunning natural objects that I reference in my jewellery – all the tiny wonders of Bermuda's beauty.
Find Alexandra's boutique inside the Washington Mall at #7 Reid Street in Hamilton. For infomation or to shop online call 441 236 9009 or visit alexandramosher.com.