by Brigitta Wohlmuth
Welcome to paradise! This magical island can heal you if you simply let go. This month allow yourself some well-deserved "R&R" and use our suggestions to Relax and Renew your body, mind & soul.
1. Read a Bermuda book on the beach
The beach is the ideal setting for a day of relaxation. Just picture yourself getting lost in a good book as you lounge on a bed of pink sand enjoying the sound of the waves. If you have nothing to read just visit Brown & Co.'s Bookmart, located on Hamilton's Reid Street. They have a wide selection from around the world including Bermuda's best authors. From non-fiction to fantasy, they offer a range of literature inspired by Bermuda. You will have harder access to these titles elsewhere. brown.bm
2. Relax with a pitcher of rum swizzle and live steel pan music
The steel pan always sings a happy melody, and when you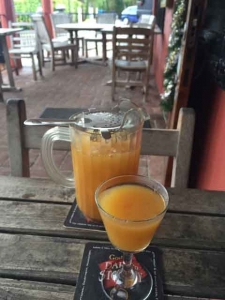 hear it live you're sure to feel the positive vibrations it emenates. At the Swizzle Inn in Bailey's Bay you can hear two of the island's most popular Steel Pan players Robert Symons (performing Sunday evenings) and Pancho (performing Monday- Thursdays). Order a pitcher of world-famous Rum Swizzle, a tropical medley of fruit juices and Gosling's Black Seal Rum, to sip while you listen to the soothing sounds of Calypso. swizzleinn.com
3. Unwind aboard a sunset Cruise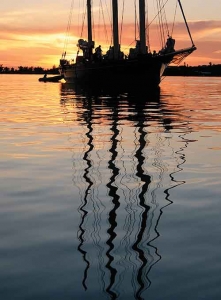 There is nothing more calming than the ebb and flow of the waves gently rocking you into a state of deep relaxation. Sounds hypnotic right? Then consider a custom-made cruise upon the Escape, a 65' luxury sailing yacht. Escapists will enjoy leaving their troubles at the shore to sail over the glassy sea. Plan a cocktail cruise with your friends and admire the sun setting on the horizon. You might as well go all out and purchase a Cuban cigar from the Chatham House on Front Street. With the ocean breeze to blow the smoke away at least you won't have to worry about offending anyone. escape.bm
4. Pamper yourself at the spa
This island is full of world-class hotels and resorts, each with their own spa. To take the stress out of decision making, let us recommend La Serena Spa at the Reefs Hotel in Southhampton, rated one of the best on the island.   Treat yourself to a detoxifying Ocean Wrap, or maybe a purifying facial? You deserve it. thereefs.com/la-serena-spa
5. Indulge in an exclusive cave massage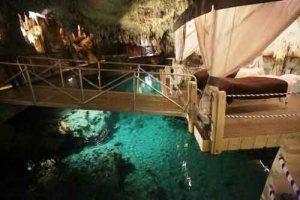 A couple's massage at Grotto Bay's Natura Spa is the ultimate experience to share with your significant other. The Spa is the first of its kind in Bermuda, located within an ancient cave that's half full with crystal clear ocean water of the deepest azure blue. A long, dimly lit staircase leads you to a mystical floating deck upon which two massage beds wait for you and your lover. Time will stand still as you surrender to the entrancing touch of their skilled masseurs, guaranteed to leave you both transformed at the end of the session. grottobay.com/spa.php
6. Take time out for a mini yoga retreat
The Yoga Centre is the oldest yoga community in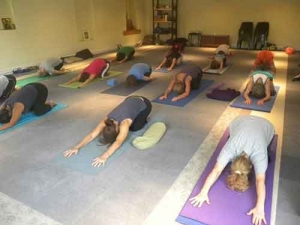 Bermuda, celebrating 21 years of teachings and service. They emphasize the spiritual effects of yoga and focus on imparting the many restorative benefits of this ancient practice. Attend their one-day "Stretch & Renew" workshop on February 26th, to learn the five tools to relieve stress and renew your body, mind and spirit. yogacentrebermuda@gmail.com
7. Have afternoon high-tea with Sweet P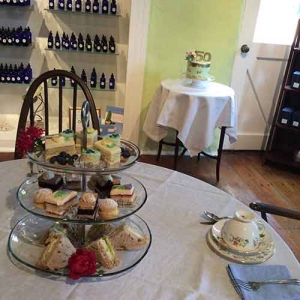 The english know all to well the rejuvenating effects of a "good ol' cuppa." Thanks to our colonial heritage you can enjoy this age-old tradition in the historic town of St. George's at The Bermuda Perfumery. Here you can take a sensual tour of some of the most hypnotic medlies of scents, followed by a sumptuous tea-time in the garden of this beautiful premises. High Tea is on Wednesday's only, email for reservations sweetpbermuda@hotmail.com
8. Put your feet up at Orchid Nail Spa
There is much to do and see in the city of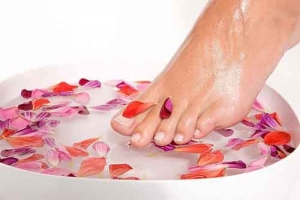 Hamilton, and after all that  walking around your feet could use a little 'TLC'.On Par-La-Ville Road is a newly opened oasis, where you can kick back and put your feet up to enjoy a luxury pedicure at this exclusive nail spa. They offer a wide range of services to keep your feet and hands looking their absolute best. Walk-Ins are welcome, so feel free to drop in if ever you need a pampering pick-me-up. orchidspabda.com 
9. Keep calm and smell the flowers at the Botanical Gardens.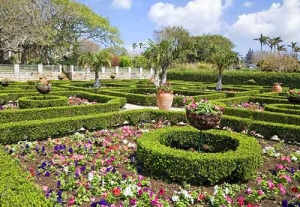 Why not immerse yourself in the beauty of the natural world to take your mind off the struggles of everyday life? A leisurely stroll through Bermuda's most pristine gardens will revitalise your spirit as you marvel at small miracles such as a blooming rose, or the sweet scent of the frangipani's. Before you leave be sure to visit Masterworks Gallery to view some truly inspired Bermuda art  –  follow up with a bite to eat at the cozy Homer's Cafe. bermudamasterworks.org
10. Chill Out at Rock Island Cafe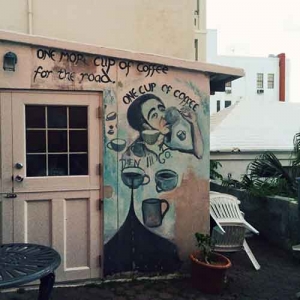 This funky little coffee house is a sanctuary for tired souls. The air here is thick with the earthy aroma of fresh-roasted coffee beans and the cozy interior gives it a lounge-like, hipster feel. They offer a wide variety of coffee and tea blends as well as fresh-baked goods. Enjoy inside or outside on the porch and let time slip by while you people-watch. Nowhere to go? Who cares, just relax and sip that latte. rockisland.bm