5 reasons to see The Big Chill Bermuda at Sea Breeze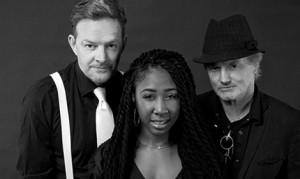 It's where it all started… You can see them perform at a number of venues across the island, but they weren't always a travelling act. Guitarist Tony Brannon and DJ Felix Tod mix 'Ibiza-style' house music with the soulful vocals of Kassie Caines, and their rapid success over the years have turned them into local celebrities. But the magic all started here back in 2013, says the Assistant Manager, Adnana Blaj. "This is where they first began. Today many people still associate the Big Chill with Sea Breeze Terrace"
Fully-serviced fun! No need to elbow your way through the crowd just to get a drink from the bar, on a Friday night at Sea Breeze you get the full package- world-class cuisine, excellent table service, and live entertainment all in one (not to mention a vallet shuttle service and abundance of taxis on site). Just book a reservation and from 6pm until Midnight you can enjoy all the amenities of this luxurious outdoor lounge with your every concern, fully- catered to by their attentive wait staff.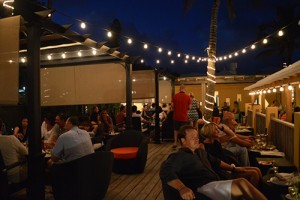 …in a unique atmosphere Everything about this event is a breath of fresh air. With the stunning Elbow Beach in the backdrop 'Al Fresco' dining just doesn't get any better. The outdoor lounge has a classy bohomian feel and you can watch the waves crash within their handmade wooden Gazebo. But the crowd is also a refreshing change from many other local bars and clubs full of drunken twenty-somethings. The vibe at Sea Breeze, coupled with The Big Chill's musical arrangements appeals to mature folk who still like a good party.
With chic eats…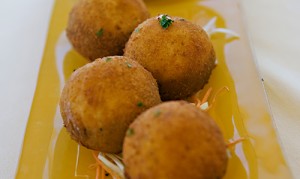 As part of the Lido Complex, an award-winning group of restaurants within the Elbow Beach Hotel, Sea Breeze offers a casual alternative to fine dining. Their exquisite Tapas and Sushi menu, boasts much more than just "nuts and olives" assures Adnana, the Assistant Manager. You can fill up on a flavourful assortment of lite bites from around the globe, including many vegetarian and gluten free options as well as desserts. Their combo platters are perfect for sharing with a party of people, and you can keep ordering right up until midnight.
& fresh fruit cocktails
Juicy Sangria made in house and freshly pressed Mohito's (with real rasberries inside) are just two highlights from their fabulous cocktail menu. Wine is fine too, but nothing pairs better with lounge music and the ocean view then one of their luxurious cocktails. You can actually order by the carafe, and share a whole jug of fruity bliss among your table of friends (or all to yourself, why not? we wont judge you).