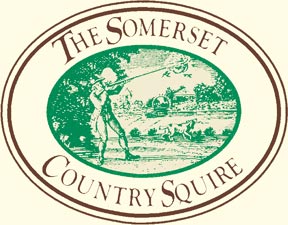 Somerset Country Squire
Restaurant and Pub
Blessed by the scenic tranquility of Mangrove Bay as its focal point, The Somerset Country Squire Restaurant and Pub finds itself ideally located for picturesque and relaxed lunches at very reasonable prices.
During the evenings you can dine a la carte at affordable prices with hospitable and friendly service. Our downstairs bar features excellent coverage of sports via our satellite TV network. When you call at The Somerset Country Squire, you realize that you have arrived in the Real Bermuda.
For reservations call 234-0105.
Overlooking beautiful Mangrove Bay, right in the center of charming Somerset Village. This traditional style pub and restaurant combines casual indoor and outdoor dining at its very best. Popular with locals and visitors alike. Barbeques on Sunday, Monday and Tuesday nights during the summer months and weather permitting. Outdoor dining is a la carte under the stars. Evenings, enjoy typical English style pub atmosphere for drinks and delicious seafood.
Winter Hours & Specials December through to March 31st
Monday: Lunch Closed
Dinner 5.30 – 9.00pm (Pub Menu)
Bar 3pm until
Tuesday: Lunch Closed
Dinner 5.30 – 9.30pm (Lobster Night)
Bar 3pm until
Wednesday: Lunch Closed
Dinner 5.00 – 9.00pm (Pub Menu)
Bar 3pm until
Thursday: Lunch 12 noon – 2.30pm (10am walk around Somerset)
Dinner 5.30 – 9.30pm
Bar 12 Noon until
Friday: Lunch 11.45am – 2.30pm
Dinner 5.30pm – 9.30pm (Fish Night)
Bar 12noon until
Saturday: Lunch 12noon – 3.30pm
Dinner 5.30 – 9.30pm (Lobster Night)
Bar 12 noon until
Sunday: Lunch 12.00 – 4pm
Dinner 5.00 to 9pm (Roast Night)
Bar 12 noon until
Summer Hours
Monday
Lunch – Closed
Dinner -4.30pm to 8.30pm
Bar 4pm until
Tuesday 
Lunch – 12noon – 2.20pm
Bar 12noon until
Wednesday
Lunch 12noon – 2.20pm
Dinner 5.oo pm – 8.30pm
Bar 12noon until
Thursday
Lunch – 12noon – 2.30pm
Dinner 5.00pm until 9.00pm
Bar 12noon until
Friday
Lunch – 12noon – 2.20pm
Dinner – 5.30pm – 9.30pm
Bar 12noon until
Saturday
Lunch 12noon – Food All day
Dinner 12noon to 9pm
Bar 12noon until
Sunday
Lunch 12noon until
Dinner Food served all day
Bar 12noon until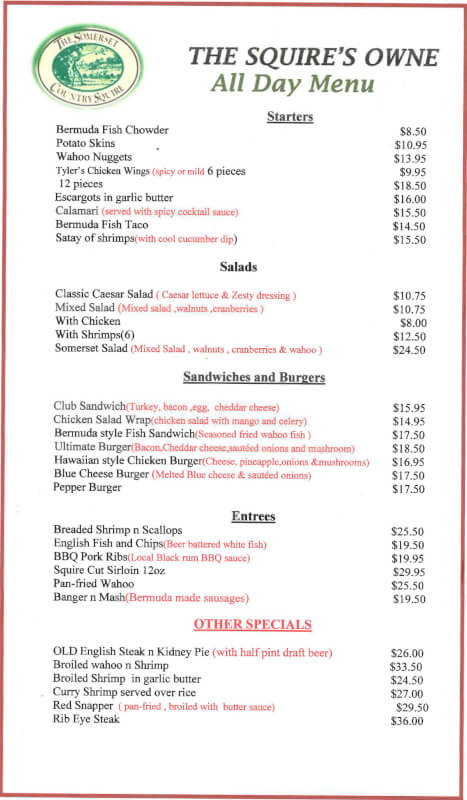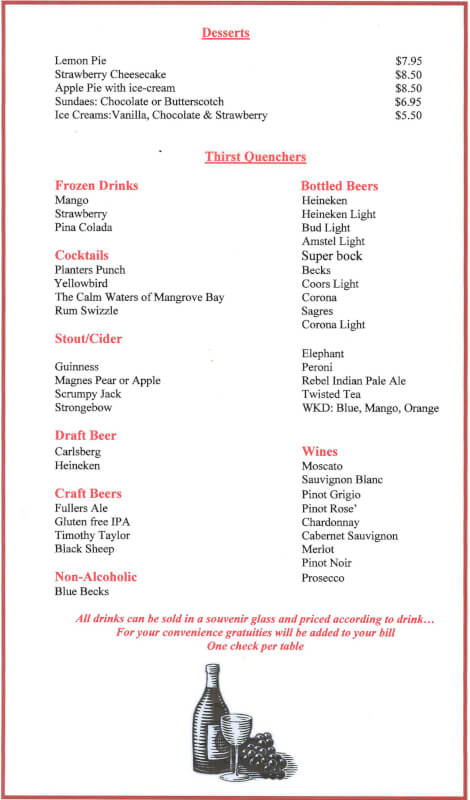 For your convenience gratuities will be added to your bill One check per table   Contact Us For reservations, call: 441-234-0105
Open Daily from 10am to 1am | Lunch from 11:30am | Dinner from 5:30pm