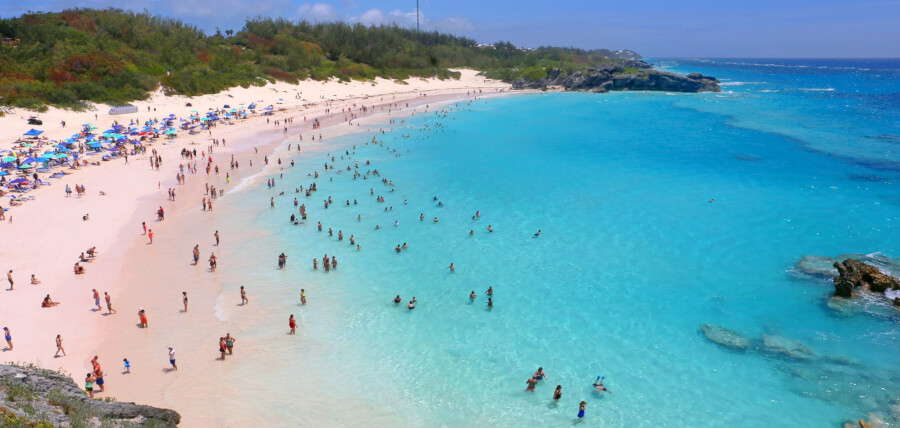 Horseshoe Bay Beach
'click here' to read more
Beaches


Elbow Beach
'click here' to read more
Beaches
Bermuda beaches come in all shapes and shades of sand and are excellent for swimming, snorkeling, sunbathing and relaxing. Most famous are the south shore beaches, with vast stretches of pink-tinged sand, interspersed with tucked away coves. The white sand contains pink flecks - remains of the tiny foraminifera organism that grows beneath the reef offshore.
Close your eyes for a minute and just imagine, the sounds of waking up to waves crashing just outside your window, the raw smell of ocean mist early in the morning...
Beach tours and activities
Come along for a fun-filled day on tour with Hidden Gems of Bermuda Ltd. Our mission is to provide an experience of a lifetime exploring Bermuda's
You will discover calm waters and soft sand at this
At Stonehole Bay, you will find a stunning combination of
Cooper's Island Nature Reserve Bermuda Cooper's Island Nature Reserve
This picturesque beach is a snorkeler's paradise, since the reef
Tucked away in a steep cliff, this lovely beach is
Two fairly secluded little beaches form an exquisite lagoon-like setting
About three tiny beaches come and go here with the
As one of the most intimate and elegant hideaways on the island of Bermuda, the Elbow Beach Resort is a boutique enclave of elegant style and service.
Admiralty House Park is a 16-acre recreational park with fantastic
Horseshoe Bay Beach is probably the most photographed beach in
Mangrove Bay is a favourite for fishing, sailing and swimming.
Welcome to Tobacco Bay, Bermuda! Tobacco Bay is an area
West Whale Bay Beach has a fitting name, because in
Located at the east end of the island, Clearwater Beach
This sheltered beach boasts coarse, white sand and shallow, calm
Located in Sandy's parish, this park has lovely beaches, a
This popular beach is long, flat and boasts the pale
Alexandra Battery was armed with 9-inch muzzle loading guns. mounted
Jobson's Cove may be tiny. But this sheltered cove, surrounded
Warwick Long Bay boasts an .8KM / .5MI stretch of
Perfectly romantic and perched cliffside overlooking sparkling seas, The Reefs
At the southern extremity of South Shore Park, straddling Warwick
Daniel's Head Beach Park covers 17 acres of coastal area
Beaches
Rated by
C. Dickinson
Rating:
4.6