Lusso
Click here to read more
Fashion & Accessories
Bermuda showcases collections of some of the best fashion and accessories from all over the world. Shopping in Bermuda is a rewarding experience as many of our shops follow US pricing and we do not have sales tax.
FAQ
What are the Top Style Tips for Bermuda Travel & Living?
As a tourist destination, Bermuda has a reputation for being modest, warm, and welcoming. The island offers year-round sunshine, beautiful beaches, and stunning views. Although Bermuda is relatively small, its climate, culture, and history offer plenty to explore.
Whether you're visiting Bermuda for vacation or relocating, these tips will ensure you get the most out of your experience.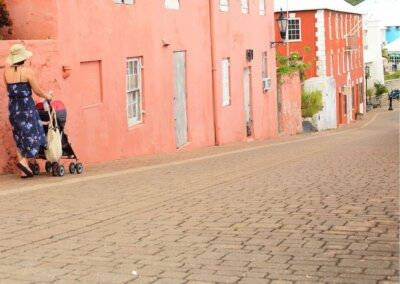 Keep these things in mind when packing for a trip
Dress conservatively – While Bermuda is known for being casual, there is nothing wrong with dressing nicely. Just remember to wear sensible clothing that fits properly.
Bring sunscreen – Bermuda tends to get hot and sunny throughout the summer months. Make sure you pack enough sunscreen to protect yourself against the sun.
Wear sunglasses – Bermuda is famous for having bright sunshine. Bring sunglasses to protect your eyes.
Be prepared for unexpected situations – As mentioned before, Bermuda is a popular destination for tourists. Therefore, you never know who you might meet or what activities you might participate in while visiting. 
What Are the Shoe Essentials for a Trip to Bermuda?
When traveling to Bermuda, you'll definitely need shoes suitable for Bermuda weather conditions. Although Bermuda's climate varies depending on the season, the island typically experiences hot summers and cool winters. 
Sandals – Sandals are perfect for exploring the island, especially in the summer months. They provide comfort and support for long walks on the beach.
Heels – Heels are great for a more elegant look at evening events such as dinners or dancing.
Loafers – Loafers are the ideal footwear for men. They offer stylish appeal and are versatile enough to match any outfit.
Sneakers – Sneakers are comfortable and lightweight. They are great for walking around town or enjoying one of the many nature trails.
Because Bermuda experiences extreme temperature changes, it's important to bring appropriate footwear. Most Bermudians wear sneakers or sandals in the summer and boots or slippers in the winter. As such, you'll want to choose clothing that's breathable and lightweight enough to allow you to move freely.
What Clothes Should I Purchase for Bermuda Weather?
The island experiences hot, sunny summers and cooler winters. As the seasons change, you'll need to be prepared for different temperatures.
Choose cotton shirts and pants in bright colors to blend into the landscape. Avoid dark colors such as black, navy blue, and gray, as they tend to absorb heat rather than reflect it. Lightweight materials, such as nylon, polyester, and cotton, work best for Bermuda weather.
Light clothing is best during the day and the warmer months, as the weather is hot and humid. On the other hand, nighttime apparel, such as warm, long-sleeved clothing is best when Bermuda's chilly winter arrives.
Additional Tips on What To Wear In Bermuda
Depending on your activity levels, you should dress according to the weather. If you're planning to enjoy the water, you might opt for swimsuits, board shorts, or a cover-up. For those who would rather stay dry, you can go with a pair of jeans and a t-shirt. If you're heading out on an excursion, you should pack comfortable shoes. A jacket and hat are also good items to take along.
Regardless of your plans or activity level, you'll still want to dress comfortably. After all, Bermuda's weather can change quickly. Dress according to the forecast, and remember to bring layers to protect yourself against sudden weather changes