The Birth of Coral
by Brigitta Wohlmuth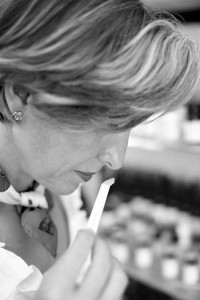 This was my first time at the Perfumery. All I knew was that it's located in one of those historic mansions owned by the National Trust a local charity that preserves the Island's cultural and architectural treasures. Being from the city, St. George's always felt like another world to me but I have to admit that it has charm. When I turn down Queen Street I immediately spot Stewart Hall by those black, plantation shutters that push out. It's easy to find. Just after St. Peter's Church there it stands gracefully on a one-way street. It is the only building surrounded by flowers and shrubbery and instantly I understand why people always describe it as "quaint".
Inside I meet the Perfumer, Isabelle Ramsay-Brackstone, a kind and elegant woman originally from Montreal whom until now I had only read about. She invites me into her office where I take a seat. Then she shows me their latest product- Lili Bermuda candles available in three of their best-selling scents.
"We love eco-packaging here at the Perfumery," she says. Instead of a box that you would normally throw away the candles come in a velvety-blue pouch and they're topped with a silver lid that you can flip over and use as a coaster to avoid burns.
I smell each one deeply. First the sweet, oceanic scent of 'South Water', then the woodsy aroma of 'Cedar' and lastly, 'Coral'- her most popular fragrance, so delicate and flowery it smelled just like a walk in the garden.
"What do you find more difficult, trying to create a signature scent or recreating a scent from nature?" I ask cautiously, trying not to bore her with one of those generic interview questions.
"No, we never do that! As a perfumer you don't try to reproduce nature, because it's a lost battle… you won't win, God always wins." Isabelle admits humbly and I smile at the truth in her sentiment.
She compares perfume making to any other art form, making the point that perfumers offer their 'interpretation of nature' in the same artistic way as a painter, for example.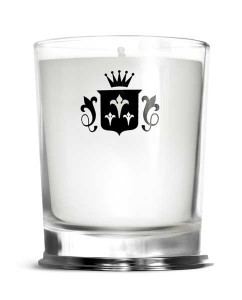 "As perfumers we inspire ourselves by nature and emphasize nuances that really speak to our soul…that make us happy," She reflects dreamily. "We get frustrated by nature because we are never able to make things as beautiful, so we just create things which we think talk about those naturals in our very own personal way." 
She seems to speak not just for herself or perfumers in general, but for all creative types. It made me think how exiting and even overwhelming it must be for artists like her to take in all of the natural beauty on their first time to the Island.
From Bermuda's many different elements (such as the wind, ocean, and sky) to the individual notes that captivate her, like the 'green' scent of Suriname cherry leaves, or the 'sweet and milky' smell of the fig trees, Isabelle laughs that she only has to take a walk around the block to come back with 15 new ideas. Even the subtle change of the season inspires her and she begins to tell me a story about her first springtime at the Perfumery.
"When I came to Bermuda, the first perfume I made was Coral. Coral is spring in Bermuda, for me it was coming to St. George's and establishing the perfumery in its new 300 year-old walls." She says, explaining how she would always take Church Lane when she walked to work in the morning. On her way she would pass White Hall, an iconic Bermuda estate, where she would stop to marvel at the front lawn covered in wild freesias.
"To me this is one of the most evocative pictures of spring in Bermuda. The lawns covered with wild freesias are spectacular, and the dewy smell of that gentle, refined flower is just fantastic! So I had all of these freesias and as you know in the spring Bermuda roses are at their absolute best- I have beautiful roses in my garden here – and that's Coral! Coral came from that! Combined with that beautiful wild wind of February when it's cold and the ocean is raging! I'll show you…" 
She goes into the showroom and brings back Coral but this time, it's a bottled perfume. She sprays one of those paper sticks and hands it to me and I take a slow whiff.  "I smell the roses now," I say, after hearing its back-story the scent had become more vivid.
"Exactly, but is it a rose perfume? No. Is it a freesia perfume? No. It is a combination of all that! It's ginger as well, it's citruses…" You could hear the excitement in her voice as she relived that pinnacle moment, now in liquid form she holds the bottle to her nose and smells it pensively.
"What really amazes me is that we have all of that in our backyard!" 
Coral is available as a bottled perfume, a candle and a solid compact perfume sold exclusively in Bermuda or through lilibermuda.com. To meet Isabelle or sample the complete Lili Bermuda collection, visit her at the Perfumery in St. George's.