by Nadia Hall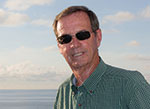 "We should all be posting pictures everyday." Roland Skinner says firmly. "And encourage people to share. When you post pictures and share it spreads like a wildfire." Roland Skinner is insistent, fully aware of the power of a single image. There's no denying we live on an extremely photogenic island, but Skinner has a unique eye, capturing beautiful moments that are otherwise intangible. The way the light catches the side of a chimney, pink, candyfloss skies, the breeze blowing through pampas grass, that moment when the wave breaks on the rock. "Sometimes I'll find something and go back when the light is right," he tells me, never without his camera in tow. He recently sustained a knee injury climbing one of the aforementioned rocks. It's hard to believe that this man is the grandfather of grown grandchildren.
I ask him how long he's been doing this. "All my life.
[Laughs.] All my life. I've never had a real job." Despite his short resume, he's clearly doing something right. He takes me through the images, each one more beautiful than the last and our interview, too, becomes wordless. There's nothing quite like a spectacular view to find yourself sitting in a comfortable silence with a relative stranger. Afterwards, he calls at the office to tell me that a visitor who purchased one of his Picturesque books put it on display at her Rhode Island beauty salon. Since then three of her clients have visited Bermuda separately after flicking through the pages. The latest book, nearly 200 stunning photographs categorized as "Sand & Sea," "Architecture," "Landscape" and "Skyline" features concise captions by Somers Cooper to help contextualize these otherworldly scenes and acts as a kind of field guide for visitors looking for pleasing vistas.
"The water up there is beautiful," he gushes, pointing at a picture taken at Pompano Beach in Southampton where the sand bar is famous for its crystal-clear, shallow waters. "All kinds of different things catch my eye." Faced with a photograph of the rock face on the shoreline, he continues, "I like this picture too, even though there isn't much in it. See the heart in the middle. That's what caught my eye."
"Then we get the rough seas. When the wind is in the North and the waves come in on the south, it takes the tops and it blows it back and it looks almost like hair." The experience has clearly made him very attuned to what's going on with Mother Nature. You can see the seasons pass in his portfolio. Boiler reefs on the South Shore, Bermudianas in bloom, overgrown railway trails and late summer sunsets. "You can't be be selfish," he states with conviction, perhaps the attitude that first drove him to share these shots at the start of his career. "You have to think. Somebody might like something abstract; somebody might like something that's not. Some people love architecture. That's all they want. Some people like flowers. That's all they want. You really have to have something for everyone." His gallery has recently moved location from the Walker Arcade to A.S. Cooper's Main Store on Front Street. When he's not shooting on location, you can find him there, signing books and prints. All four Picturesque books are available at Cooper's, Brown & Co. and The Bermuda Bookstore. His publishers can also offer alternate covers for the same book, perfect for corporate gifts, hotels or private parties.
We were so grateful to have Roland Skinner take these lovely photographs and his images are his legacy for us to enjoy forever.