By Nadia Hall
Little Venice has become something of an institution. It opened its doors over 40 years ago as the first Italian restaurant in Bermuda and this steady stalwart (alongside its neighbouring eateries and, um, drinkeries) has kept crowds flocking to Bermudiana Road ever since. The street-side terrace, or terrazzo, stretches the length of the restaurant and their popular Happy Hour consistently draws a lively crowd.
Chef Michele Celentano hails all the way from Sorrento, Italy and has brought with him a warm Neapolitan hospitality synergetic to our own Bermudian spirit. You can expect complimentary appetizers and amuse-bouches alongside your glass of wine – the bar boasts an award-winning selection – and along with it some recipes borrowed from his Mama. The Torta Caprese, a flourless chocolate cake is one such family recipe and is usually served with their delectable almond brittle ice-cream, just one of their many artisanal flavours. His house-made ravioli, he tells me, does not follow the traditional formula for the common pasta all'uovo. Michele's version is eggless, showcasing one of many regional differences in conventional dough making. Stuffed with Bermuda-grown tomatoes, it's a stunning example of the Mediterranean philosophy: fresh, local and seasonal ingredients prepared simply and artfully. It is unpretentious, again borrowing from the notion that wonderful food, great wine and good company are all the makings of a memorable evening. The kale quiche makes indulgent the humble, green "superfood" and a platter of fritto misto provides excellent bar pickings to share with friends. The miniature porcini mushroom risotto is an ideal snack size of a perennial favourite, borrowed from the restaurant menu. If these pro bono bites have whet your appetite, you can order more perfectly portioned choices from the bar menu. Part of the appeal is that guests do not have to commit to a major meal. The evening flows at exactly the rhythm that suits the individual or group, finishing at one or two glasses of wine, dinner in the main dining room, or dancing at their neighbouring night spot "The Club."
The extensive wine list includes selections from all over the world: Italy (naturally) France, California and New Zealand as well as offerings from South Africa, Spain, Chile, among others. Gosling's have reintroduced their state of the art wine dispensing system. The dispenser safeguards wine against oxidation, preserving aroma and scent once opened allowing customers to sample higher quality bottles by the glass. The ambiance of Little Venice is an intimate and cozy one and it is not uncommon to forgo all but an evening on the patio under the widespread awning. With the winning elements of delicious food and the enchanting atmosphere, it's clear why this establishment has preserved its indomitable status on the island.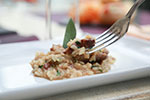 Risotto Porcini, sage
Pairs well with Ruffino Chianti Classico Riserva Gold Label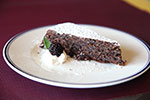 Torta Caprese Flourless Chocolate Cake
Pairs well with Dow Tawny Port 20y
2017-01-29T23:32:28-04:00
Share This Story, Choose Your Platform!