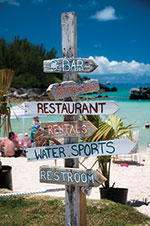 By Nadia Hall
With over 300 beaches on which to wiggle your toes in the sand, vacationers can feel spoiled for choice in Bermuda. While you can feel at ease knowing that should you cast your net in any direction, you'll be sure to catch good times at the seaside, Tobacco Bay offers amenities that you will not find elsewhere. The best part is how well you are taken care of. It has all the comfort of lounge chairs and cabana boys without the annual club membership.
The picturesque bay, typical of its UNESCO World Heritage surroundings, has an interesting history as the setting for Bermuda's "Gunpowder Plot". On August 14, 1775, a group of Bermudians sympathetic to the cause of the American Continental Congress stole gunpowder from the British Magazine in St. George's, rolled it across the island to Tobacco Bay and shipped it to America. Where once the craggy, vertiginous, limestone rocks that surround the bay provided ample cover for such conspiracy, they now cater to a crowd of pleasure seekers, adventurers and spellbinding sea life just waiting to be explored. This is a top snorkeling spot on the island, its shallow, waveless waters are safe for any level of enthusiast eager to view the colourful parrotfish or participate in any of the many watersports on offer.
This once remote location, has recently become much more accessible with the introduction of the new bus shuttle. The St. George's Beach bus connects to five beaches, perfect for those looking to cool off after sightseeing in the town. They provide live entertainment daily with clean facilities, a full bar and café with locally inspired cuisine alongside the popular burgers and fries, recently recruiting vegetarian chef Ashley Tucker to include a broader range of foods for the health conscious.
Just like the new menu, there's something for everyone in this beautiful melting pot. DJ's on rotation spin island tunes in an atmosphere that is up-tempo enough for an impromptu salsa, but slow enough to play Frisbee. Sundays play host to Wet Republica, their signature and popular beach party, and Friday Happy Hour to kick off the weekend. While the beach can get quite crowded in the height of summer, the surrounding rocks provide a platform where you can step back and observe everything. Just soak it all in. They've recently built a private cabana by the trail for a more intimate group setting.
Finding Tobacco Bay:
Getting to Tobacco Bay from the heart of the old Towne in King's Square is a scenic 10 minute walk, just past the Unfinished Church! Follow the plentiful beach wayfaring signage or for personalized direction, pop into the pink Visitor Industry Centre located in the square. Or explore so much more and enhance your day-at-the-beaches experience with the St George's Hop on Hop off shuttle, running every 30mins past 5 fully serviced beaches!
Tobacco Bay Beach
#1 Coots Pond Rd, St George's
beach and equipment rentals
Come play at Tobacco Bay! This charming cove is alive with fun-filled activities for everyone. Our shallow waters and unique volcanic rock formations provide a world-class setting for snorkelling with ease. Try Paddle Boarding, Zayaks, Kayaks and more, in, on or under the water! Enjoy the cozy beachside bar and restaurant with signature frozen cocktails and authentic island grub. Covered wooden decks, with full lounge chair and umbrella service, provide optimum comfort. Live entertainment and music feature daily. You can expect clean washroom and changing facilities complete with lockers making it an ideal choice for families. Make a day of it in the UNESCO heritage ³towne" of St George with the looping Hop-On, Hop-Off Beach Bus, dropping you to other nearby beaches while showcasing culture and ever-attentive services at neighbouring Fort St Catherine beach & Alexandra Battery beach too! Open daily from 10am – 6pm.
www.tobaccobay.bm
No review box found! Insert a valid box ID.