Bermudians rely on the sea for their livelihoods in the 1700's
Encapsulating 500 years of Bermuda's history, culture, traditions, economy and people on to four walls took Bermudian artist Graham Foster over three years. The evocative art instillation in the Commissioner's House of the National Museum of History depicts the island's transformative moments over the centuries in Foster's vivid, unique style.
Set in a stunning two-storey hall, the sweep of Bermuda's history comes to life in all its intricate detail, tied together by the blue of the sea. Foster included not just major events, but also the more obscure day-to-day happenings, customs and traditions which give Bermuda and its people their unique character.
From the wreck of the Sea Venture to the slave-based 18th century maritime economy, through emancipation and the arrival of tourism and cars to small details of boys playing marbles, the mural addresses both history and folklore, peppered with a dash of humour.
The Hall of History was officially opened in 2009 by Her Majesty Queen Elizabeth II during her visit to Bermuda to mark the 400th anniversary of the Sea Venture shipwreck. A large coffee-table book with images from the Hall and the story of Bermuda is now in print.
The National Museum of Bermuda is open every day except Christmas, from 10 am to 5 pm, last entry at 4 pm. Entry for adults $15, seniors $12, children under 16 are free. www.nmb.bm.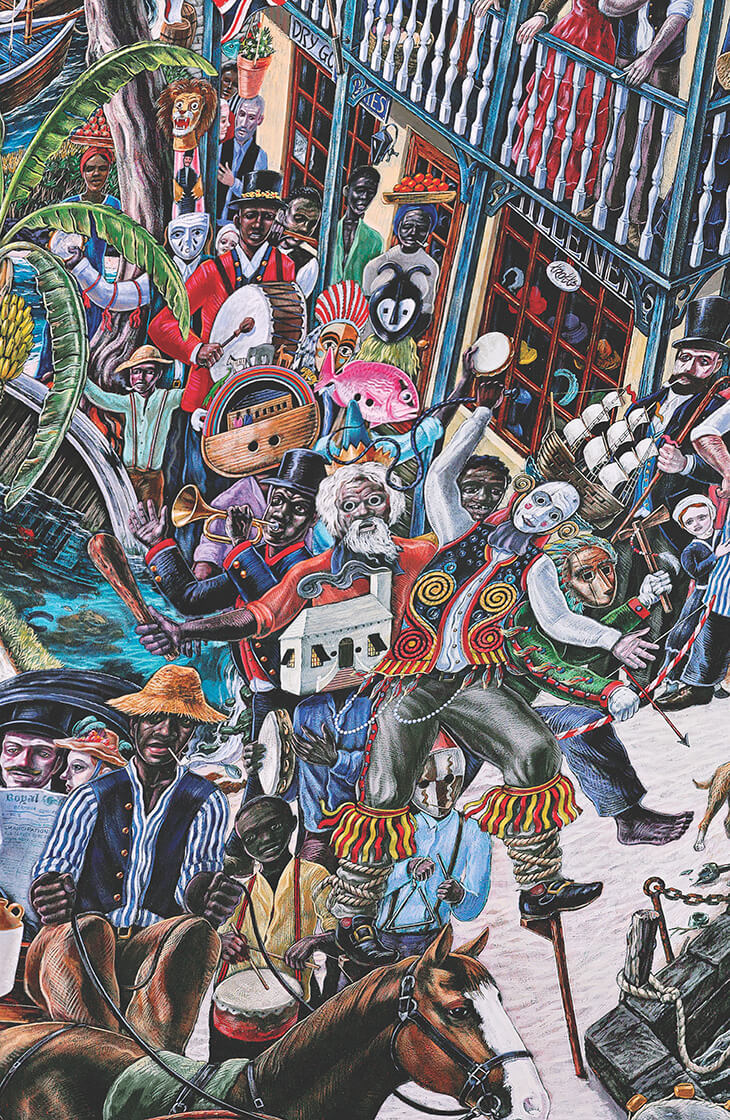 Emancipation celebrations in 1834