Good Friday In Bermuda
For Bermudians and our residents, Good Friday is a time for tradition.  We build and fly homemade Bermuda kites, we make codfish and English style hot cross buns and we spend time with family and friends.
Fun kite fact: Flying kites originated in Indonesia 3,000 years ago. Much later, it reached Bermuda when British Army troops used them to plan telegraph poles!
Originally, kites were not flown until after 3pm here in Bermuda however these days if you can get your kite up, it stays up all day and only comes down if it rains. Bermuda kites have long cloth tails and are in different colors of paper tissue, wood and string. Some are huge, in exquisite patterns and require several men to get them airborne. Some are deliberately made to emit a humming or buzzing sound, with a hummer made from glued paper. Another variation of the Bermuda kite is the traditional Somerset brown paper kite. It is made of brown paper, cross sticks with a hummer behind the head stick. Bermudians take their kits very seriously.
If you're a visitor or new to the island, try finding an open area to fly your kite and somewhere that you can keep an eye on it id you decide to let it linger in the sky with the rest.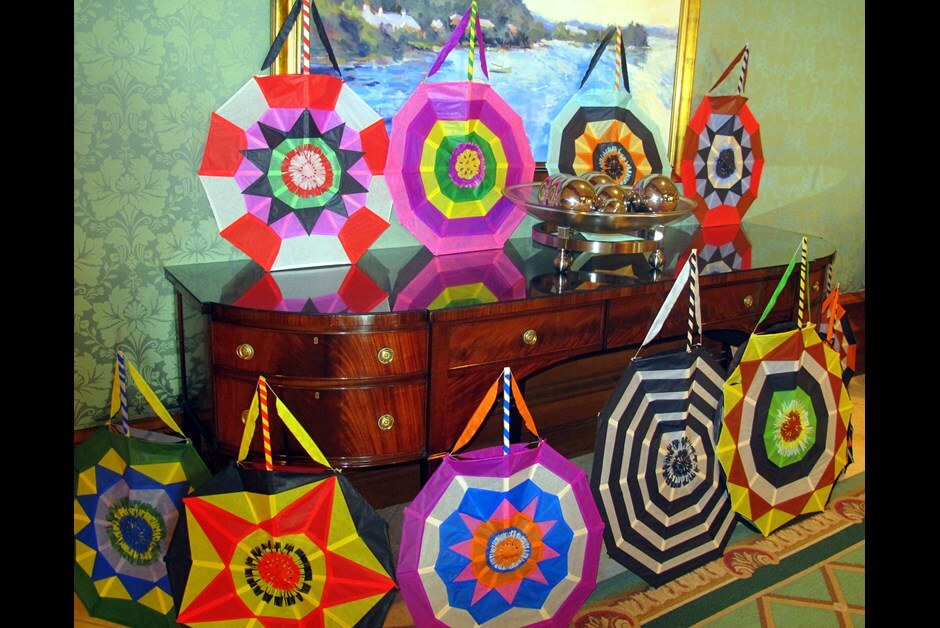 Bermuda Codfish Cakes 
While these by themselves are not uniquely Bermudian, their development as a uniquely Bermudian dish, is worthy of special note.
The dish was once only found seasonally but nowadays, Bermuda codfish cakes are not just a tradition on Good Friday and Easter Sunday but an island inspired dish found on local menus all year round.
In Bermuda, when made with care from imported salted codfish and given special local treatment, the dish is absolutely delicious!
You can buy them across the island leadning up to Easter at places like Miles Market, Glaze Bakery, Harrington Hundreds and more.
Click here for a recipe to try on your own.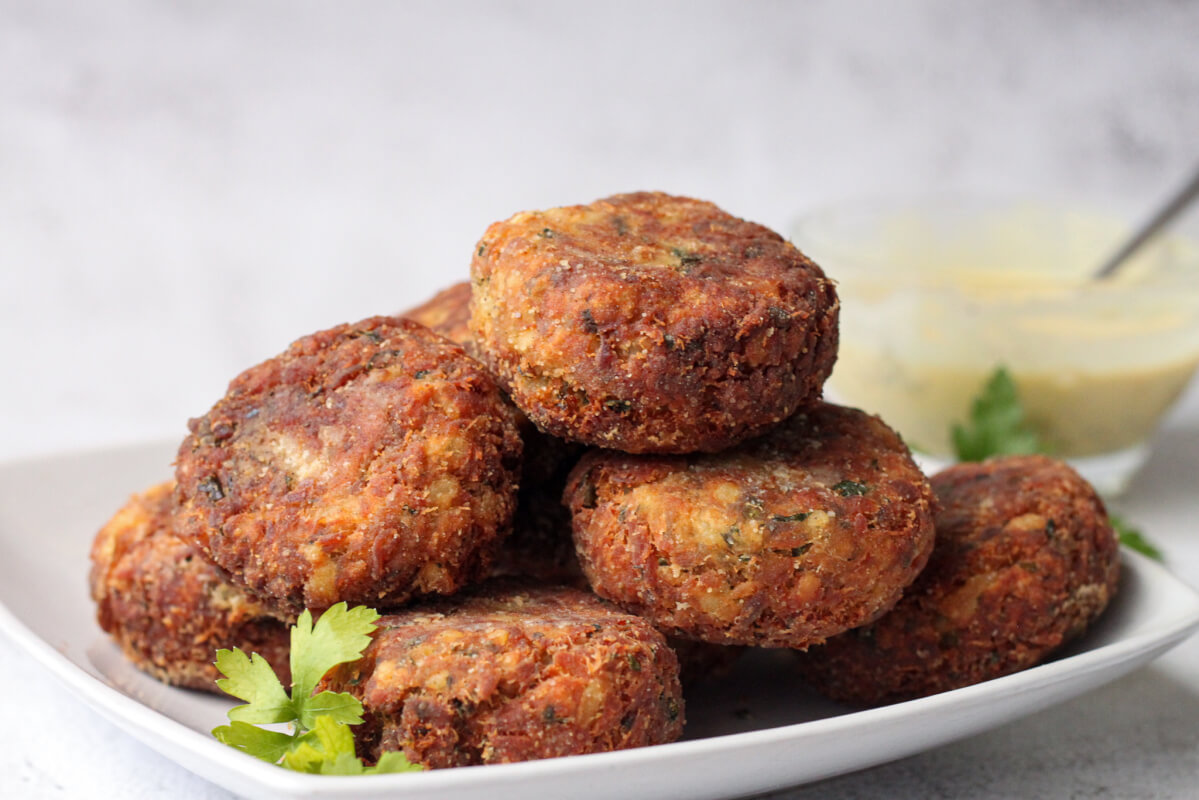 Hot Cross Buns
A direct import from the United Kingdom, Hot Cross buns are much favored in Bermuda. They are available from commercial bakeries such as Sweet Sak or Glaze or as home-made batches, sold or given away by family matriarchs who love to make them from scratch.
They are square-shaped sticky buns, which vary in size, with icing sugar applied to them in the shape of a cross.
Hot Cross Buns:
2 + 1/2 lbs flour or 10 cups
3 oz brown sugar (6tbsp)
3/4 oz dry yeast (3 packets)
3 cups warm water
3/4 cup unsalted butter (6oz)
2 large eggs
2 tbs cinnamon
1/2 tbs allspice
1/2 tsp salt
1 lb raisins
For the Glaze
2 + 1/2 cups icing sugar
water as needed
Recipe:
Mix together the yeast, water and sugar and set aside a few minutes until the yeast starts to foam.
Mix together the flour, spices and salt.
With a mixer, or by hand, mix the flour, butter and eggs into the yeast-water mixture.
Now add the raisins. The dough will be somewhat sticky but should pull away from the sides of the bowl and form a ball. If not, add a little more flour.
Cover with a towel and let it rest in a warm place until it doubles in bulk. (Be sure it is in a bowl large enough to accommodate its new size).
Punch down the dough and cut into small 2 ¼ ounce pieces. Roll into balls and place on a baking sheet several inches apart.
When all are lined up cover again with a towel and put in a warm place away from draughts and allow to rise 15-20 minutes. You will need more than one baking sheet.
Preheat the oven to 400°.
Bake for about 15 to 20 minutes or until golden.
While they are baking, make the glaze by mixing together the icing sugar and as much water as needed to make the glaze spreadable.
Allow the buns to cool on a rack then brush with the glaze.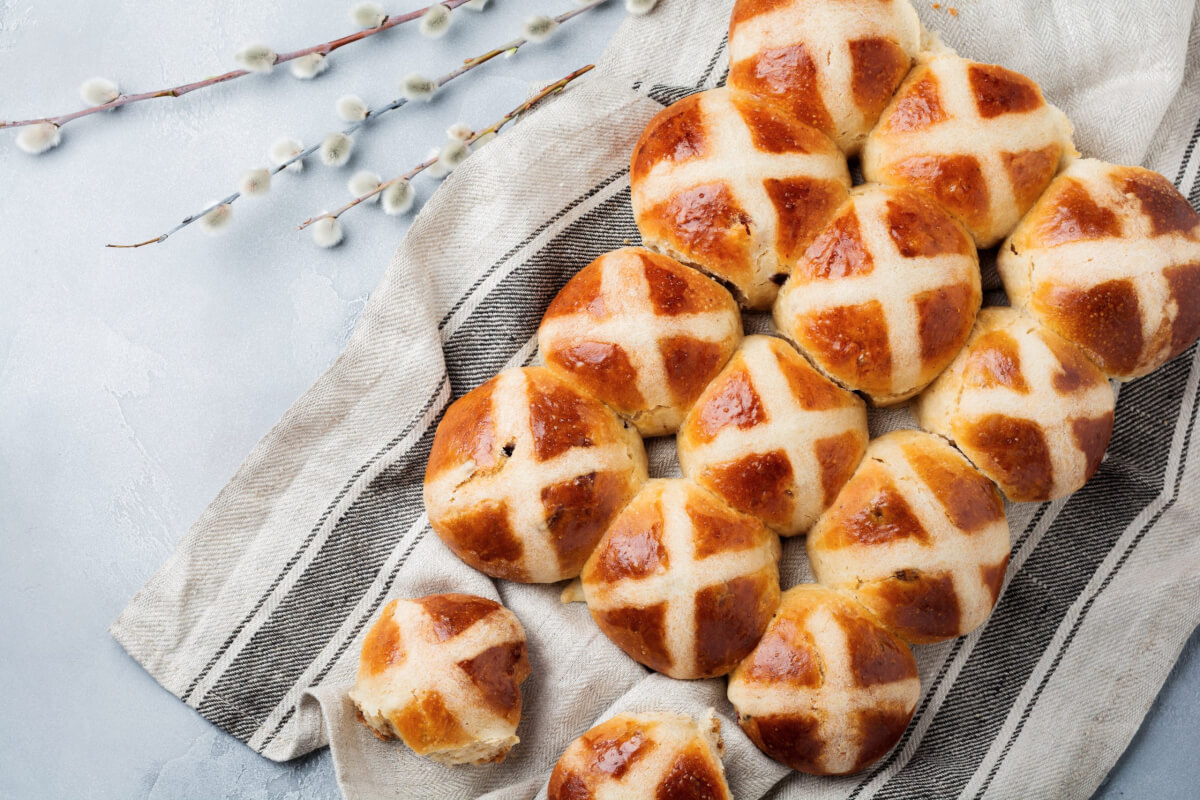 Bermuda Easter Lilies
Many Bermudians and others associate Easter lilies with Bermuda, and at one time the unique Bermuda variety were world famous. It is not generally known that the Easter Lilly did not come to Bermuda until the 1870s, by accident instead of design.  A ship, with a supply of bulbs, limped into Bermuda for emergency repairs and in the process, the bulbs arrived here too. The Bermuda grown variety usually open around Easter, but it is not uncommon for many to blossom and bloom before Easter. Some plants have a flower, which lasts about 10 days, while some stems may have as many as 6 separate flowers. A local tradition is that a finest selection is always sent to Her Majesty Queen Elizabeth II.
Click Here to learn more about the history of the Bermuda Easter Lilies.
For more ideas on how to spend Easter this year in Bermuda visit www.BermudaEvents.com