Easter is celebrated all over the world, but in Bermuda we observe the Easter holiday with various traditions found throughout the island. Easter In Bermuda offers a wide variety of activities, from kite flying to local delicacies, religious ceremonies and more. Plan to spend your Easter in the beautiful island of Bermuda.
Good Friday
For most Bermudians, Good Friday means tradition, church, flying Bermuda made kites, and eating codfish cakes with English style hot cross buns.
Flying kites – although not on Good Friday – originated in Indonesia 3,000 years ago. Much later, it reached Bermuda when British Army troops used them to plan telegraph poles.
Originally, kites were not flown until after 3 pm. Now, they stay up all day and usually come down only if it rains. Bermuda kites have long cloth tails and are in different colors of paper tissue, wood and string. Some are huge, in exquisite patterns require several men to get it aloft. Some are deliberately made to emit a humming or buzzing sound, with a hummer made from glued paper. Another variation of the Bermuda kite is the traditional Somerset brown paper kite. It is made of brown paper, cross sticks with a hummer behind the head stick.
If you are lucky enough to be in Bermuda during the Easter Holiday, plan to visit Horseshoe Bay Beach on Good Friday, to see all the spectacular kites flying.  
Fish cakes and Hot Cross Buns…a Bermuda Tradition. 
Bermuda Codfish Cakes 
While these by themselves are not uniquely Bermudian, their development as a uniquely Bermudian dish, is worthy of special note.
The dish was once only found seasonally but nowadays, Bermuda codfish cakes are not just a tradition on Good Friday and Easter Sunday but an island inspired dish found on local menus all year round.
In Bermuda, when made with care from imported salted codfish and given special local treatment, the dish is absolutely delicious!
Hot cross buns
A direct import from the United Kingdom, Hot Cross buns are much favored in Bermuda. They are available from commercial bakeries or as home-made batches, sold or given away by family matriarchs who love to make them from scratch.
They are square-shaped sticky buns, which vary in size, with icing sugar applied to them in the shape of a cross.
Enjoy your Easter Holiday the Bermudian way, with traditional Fish Cakes and Hot Cross Buns.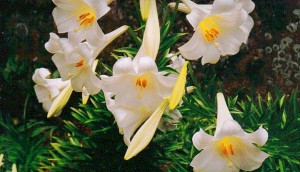 Many Bermudians and others associate Easter lilies with Bermuda, and at one time the unique Bermuda variety were world famous. It is not generally known that the Easter Lilly did not come to Bermuda until the 1870s, by accident instead of design.  A ship, with a supply of bulbs, limped into Bermuda for emergency repairs and in the process, the bulbs arrived here too. The Bermuda grown variety usually open around Easter, but it is not uncommon for many to blossom and bloom before Easter. Some plants have a flower, which lasts about 10 days, while some stems may have as many as 6 separate flowers. A local tradition is that a finest selection is always sent to Her Majesty Queen Elizabeth II.
Easter Sunday Sunrise Service
Many Bermudians and other residents celebrate the latter first with this service – of which there are several – at various locations throughout Bermuda. But one of the most notable is at Horseshoe Bay at dawn. Those who don't feel like getting up so early but are church-goers will find that their traditional Easter Sunday church service is enhanced by special flower arrangements in the church and more festive than usual choir music. Then, to make a family day more complete, there are Easter Egg hunts for children and more kite flying.
Bermuda Easter Parade  – ended generations ago
Sadly, the lovely old tradition of the Bermuda Easter Parade – unique in its kind and once famous throughout the world, which drew thousands of visitors to the island – has long disappeared. The last such parade was in the 1970s. The Parade itself was glorious, with a large number of very artistically created floats all covered with local flowers, especially Bermuda Easter Lilies. The floats represented major local agricultural, civic, gardening and other organizations, the Corporations and municipalities of the City of Hamilton & Town of St. George's, Bermuda Chamber of Commerce, plus many individuals. The floats were on bicycles, horses, automobiles and trucks. Notable features of this hugely popular parade for both locals and visitors were the creativity and originality of the floats parading through the streets of the city.