Traditional Romance – February in Bermuda
By Brigitta Wolhmuth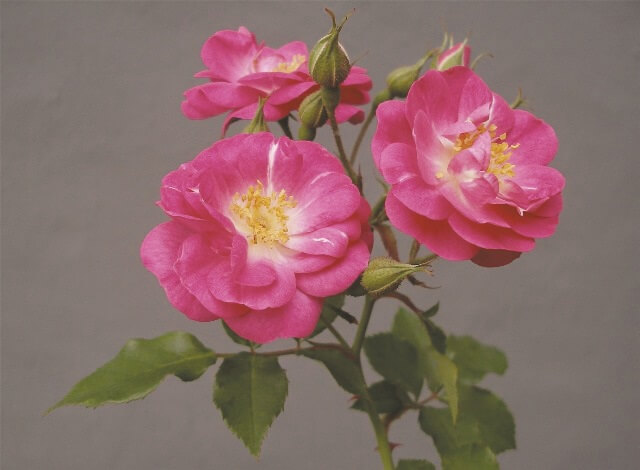 The Mystery Roses
Roses in Bermuda bloom all year round but they are most exquisite during the colder months from October to May.  The early settlers brought many different seeds with them from their homelands and today Bermuda is considered by horticulturalist to be a living museum of roses. Flowerbeds across the Island burst with Old Garden and Antique roses of every shade and class, but perhaps most interesting are the 'Mystery Roses'; a special group whose original names and provenance remain unknown. To learn more about Bermuda's roses you can purchase the book 'Roses in Bermuda Revisited' published by the Bermuda Rose Society. Alternatively, the Botanical Gardens offer a free guided tour every Tuesday, Wednesday and Thursday, starting at 10:30am. The tour departs from the Visitors Centre.
Bermuda moon gate
A symbol of love and good fortune, this unique architectural element is traditional in Chinese gardens and was introduced to Bermuda in the late 19th century. You'll find them adorning gardens across the island, but the Bermuda moongate is slightly different from the original Chinese design, as it is often left free-standing or attached to a low wall. Said to bring good luck, it is local tradition for newlyweds to walk underneath the moongate together. There is a beautiful Moongate for the public to enjoy at Somers' Garden in St. George's, named after Bermuda's founder, Admiral Sir George Somers whos heart was also buried there.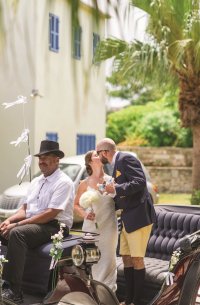 Horse & Carriage Ride
One of the most romantic ways to see the island is from the seat of a charming Horse-Drawn Carriage. Take a tour of the Old Towne of St. George's (a UNESCO World Heritage Site) and as you trot down the narrow cobbled streets, past quaint homes and historic sites like the Unfinished Church, you'll feel as if you've stepped back in time to the 18th century. This dying tradition was once the only method of transport in Bermuda, but today, a "buggy ride" is customary for couples celebrating their love. Bronco Stables in St. George's offer carriage rides for tours or weddings, all year round. Contact them at 441 297 8395 to arrange a ride.