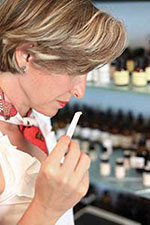 by Nadia Hall
"I very much compare perfumes with music" Isabelle Ramsay-Brackstone begins. "It would be like saying, I'll give you a music sheet of a Bach Concerto and I'll have it played by two different violinists and, of course, they won't play it the same way." She has such a wonderful way of explaining the process of an outwardly enigmatic craft. Having trained with the previous perfumer of 40 years, she took over the Bermuda Perfumery ten years ago, breathing new life into an aging institution.
"Since I became a perfumer, I was more interested in really capturing seasons and emotions about Bermuda as a sense of place and how it defines our lives, more than specific botanicals, which was what the perfumery was about when it was created," she explains. She has since launched over twelve new fragrances to add to the collection, this year reintroducing the classic six: Easter Lily, Bermudiana, Frangipani, Jasmine, Oleander and Passionflower. "They are the same formulas and fragrances from when they were created, but what I've done is I've infused quality and a little bit of modernity. I said, where can I add dynamics and beautiful spirit to it? In essence, we are bringing back those classics of Bermuda but with a really nice 2015 flair."
She brings the fresh fragrances to a desk already scattered with glass bottles, an intimate glimpse at her creative process. Dipping each tapered test strip into the bottles, she talks through it with great passion and attention. The Easter Lily, one of her personal favourites, is "very feminine and very pretty. It's definitely very classic, it's definitely an Easter Lily, but we tried to elevate it to a higher pitch, give it a lot of freshness, lots of luminosity. It's very light. It's bright and it's just very pretty." The original Easter Lily, I understand, was a little tired. A fragrance of its time, It was a heavy, sweet, thick perfume. This one is still an Easter Lily but it's done with a lot of lightness. It's sheerer and it's decidedly greener – you can sense the stems as well as the flower – and it's notably less sweet than its predecessor. Like a history lesson in scents, she examines each one. Bermudiana, an aromaless flower in actuality, is an abstraction created in the 70s with the characteristic citruses that began to appear at the time. Jasmine dates back to the 1930s, "a typical French perfume," while perennial favourites Oleander and Passionflower seemed to withstand the test of time. "Perfumes go through their cycles. They're fashionable, they go out of style and then they come back. And these are little black dresses," she explains.
It's not unusual to find a bit of foot traffic at the perfumery, excited guests stopping in to see the "composer" at work, all the while sharing their own experiences. And it's no coincidence that the perfumery attracts these visitors and their personal tales. The olfactory system has long been understood as the strongest of memory triggers. There's definite validity in certain scents affecting emotions chemically. "People feel so much more connected when they can see you, share pictures with you and emotions and time. It's a big thing, you know," Isabelle adds, eschewing the notion of the common department store fragrance hall in favour of a more personalized shopping experience. They have been mixing handcrafted fragrances at Stewart Hall since 1928 and it's a privilege to see this tradition continue in her capable hands. As if on cue, St. Peter's Church bells ring. "It's not on time. It rings five minutes later or before," she observes, a quirk that only adds to the charm of this historic site.
The window at the Front Street location is inspired by an old postcard of Bermuda, an adorable, vintage beach cruiser with baskets full of flowers and old Pan Am advertisements playing through a custom-made, wicker basket television. "It's very much about the nostalgic times of Bermuda. Pan Am and Bermuda tourism at its peak when it was really elegant and you came to Bermuda to have a picnic on the beach. I like the way of nostalgie where we remember those days where times were gentler, slower and people were polite and all that." This is a tradition that still holds strong on the island and a legacy I hope will endure.
Each fragrance in the Legacy Collection will come in a white box with a pink grosgrain ribbon. A 100ml eau de parfum will retail at $110.