The Royal Airforce 100th Anniversary stamp issue set to launch on December 20th, 2018 commemorates the oldest independent air force in the world. The Royal Flying Corps was the air arm of the British Army formed in 1912 until it merged with the Royal Naval Air Service in 1918 to form the Royal Air Force.
Approximately 20 Bermudians joined military aviation services in World War I. They included Ewart Cudmore Brown, Lennock de Graaf Godet, Cyril Nelmes, Rowe Spurling, Stanley Stone, Henry Watlington and C.H. Young. Shortly after the outbreak of World War II a group of local businessmen and some US citizens living in Bermuda funded the Bermuda Flying School and purchased two Luscombe 8A-2 seaplanes.
By November 1940 sixteen of the pilots trained on those small seaplanes were accepted for service in the Royal Air Force. They included John Brewer, Bobby Burnard, Royston Dodwell, Jim Land, Geoffrey Osborn, Teddy Nicholl, Ronald Stemp, Francis Stephens, Kenneth Trimingham, Alan 'Smokey' Wingood, and Jimmy Whitecross. While some Bermudians flew to the UK on Catalina delivery flights as 'Flight Engineers' – they included Francis Bridges, R.D. Outerbridge, Jack Pitt, Henry Vesey and both Hubert and John Watlington – Richard Gorham flew for the Royal Artillery as spotter pilot, and John Hartley Watlington and Jack Sharpe, joined the Royal Canadian Air Force.
Having sent 80 Bermuda-trained pilots to the Air Ministry – mainly to the Royal Air Force Fighter and Bomber Commands – the Bermuda Flying School was closed in mid-1942. By then the US had entered the war and the number of trained pilots could keep the services fully manned.
In World War I Rowe Spurling was a member of the Bermuda Volunteer Rifle Corps and later a Royal Air Force pilot credited with six aerial victories. While a member of Bermuda's First Contingent fighting in France, Rifleman Spurling was wounded twice. In July 1917 he became one of sixteen Bermudian enlisted men to become officers. Not obliged to return to their original units, Rowe Spurling chose to join the Royal Flying Corps.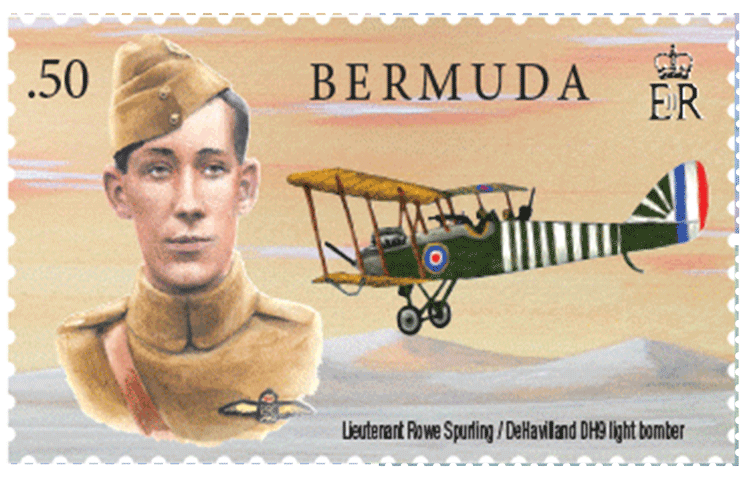 While flying a DeHavilland DH9 light bomber on August 23rd 1918 he became separated from his formation and almost landed on a German airfield. Being vastly outnumbered by 30 German fighters, he launched a single-handed attack and managed to shoot down three of the German planes, while his observer shot down two more. This made Lieutenant Spurling an ace and he was awarded the Distinguished Flying Cross. During the Second World War Rowe Spurling returned to the RAF, serving in Transport Command, and reached the rank of Squadron Leader.
Geoffrey Osborn arrived in Bermuda at the age of seven, was educated at Warwick Academy and in 1938 joined the Bermuda Volunteer Rifle Corps. He learned to fly at the Bermuda Flying School at Darrell's Island in 1940, receiving Pilot's Licence #4. After joining Special Duties 161 Squadron, Geoff flew long-range sorties to drop supplies and agents to the Resistance in France, Belgium and Czechoslovakia in support of Special Operations
Executive operations. In March 1943 his Halifax bomber crashed soon after take-off, killing two crew members and trapping four others. Ignoring exploding ammunition, Geoff managed to drag them to safety, seriously burning his arms and face. For these acts of gallantry he was awarded the George Medal by King George VI.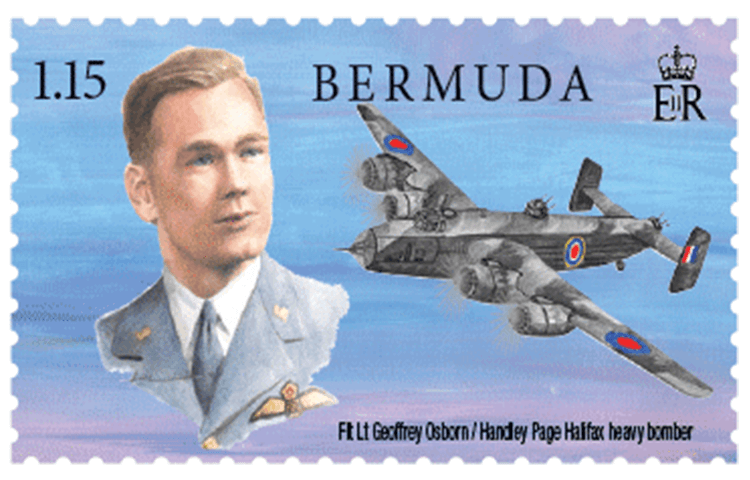 During a reunion at his airfield several years after the war, Geoff and his war-time dispatcher were comparing
their old log books (pilots were never given operational details at the time in case of capture), Geoff found out
that when dropping a number of Czech paratroopers near Prague in December 1941, two of them were part
of 'Operation Anthropoid', code name for the assassination of SS-Obergruppenführer Reinhard Heydrich. After
working as air traffic controller in Northern Rhodesia, Germany and England after the war, Geoff Osborn returned
to Bermuda in 1966 to join the Department of Civil Aviation, subsequently becoming Permanent Secretary for
Transport.
Hugh Watlington joined the Bermuda Volunteer Engineers at the outbreak of World War II, and in 1940 the Royal Canadian Air Force as Atlantic Ferry pilot. He next transferred to the 217 Squadron of the Royal Air Force where his first active duty posting involved attacking German convoys along the Dutch, Danish and Norwegian coasts flying Bristol Beaufort torpedo bombers. During his second posting Hugh Watlington received the Distinguished Flying Medal, following a mission over Malta, when his bomber was knocked out by flak as his group attacked German fuel tankers supplying Rommel's Afrika Korps. He later told a newspaper "We were literally riddled with bullet holes. We even had bullet holes in the propeller blades. It was like flying a shredded colander". He was one of only three percent of pilots who survived two active tours of duty.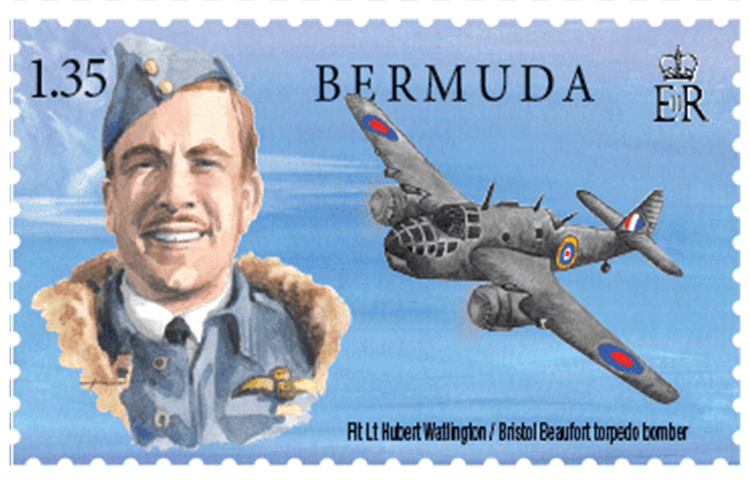 After returning to Bermuda Hugh Watlington established Bermuda Air Tours Ltd. in 1949, flying Luscombe and
Aeronca floatplanes, offering sightseeing tours at $6 per person. In 1952 he added four more Luscombes and
a Cessna, and in 1954 added two Tiger Moths to his fleet, before closing the business. From 1956 to 1985 he
managed Watlington Waterworks where he is considered one of the company's most dynamic leaders, increasing
water production to around 400,000 gallons per day. In 1981 Hugh Watlington co-piloted one of the last World
War II era flying boats from Bermuda to England. He considered the experience one of the highlights of his life.
Born in Bermuda and educated at Saltus Grammar School, 'Smokey' Wingood had an early interest in flying and, at 21, joined the Bermuda Flying School on Darrell's Island in late 1939. One year later he was off to England to join the Royal Air Force. After 15 months of flight training, Officer/Cadet Wingood received his wings and was commissioned as Pilot Officer, flying Vickers Wellington bombers. Attached to 142 Squadron and married for just ten days, he started a tour of thirty missions over occupied Europe. During one of the raids to bomb Hamburg the bomber's wireless failed and, not knowing if the mission was going ahead, 'Smokey' pressed on regardless. This action earned him the Distinguished Flying Cross, which he received from King George VI in 1944.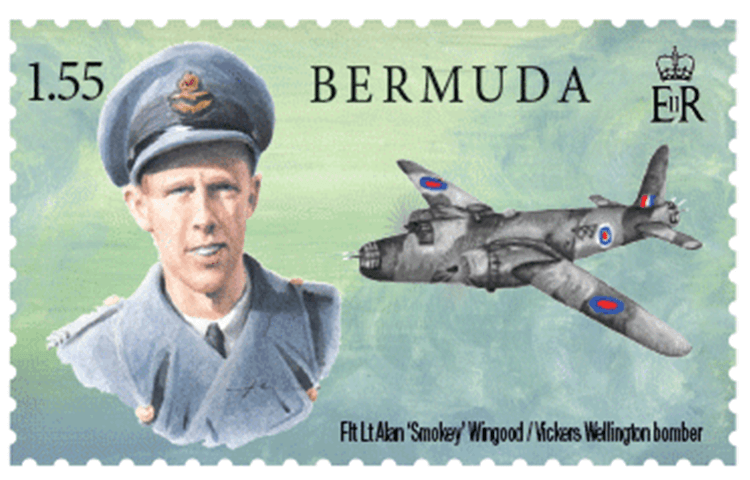 After an assignment to Libya where he operated a staging post handling aircraft flying between the Far East and
the United Kingdom, 'Smokey' Wingood finally returned to Bermuda in May 1946 after 5-1/2 years in the Royal
Air Force. Having worked for Pan Am Airways for the next 13 years, he made a complete change by getting into
the marine contracting business, servicing underwater equipment for the US Navy. In 1978 'Smokey' Wingood
secured a licence to investigate Edmund Downing's wreck discovered in 1958 and assumed to be the Sea Venture
which led to the settlement of Bermuda in 1609. After 'Smokey' uncovered many rare artifacts from the site,
archaeology experts concluded 'beyond any reasonable doubt' that the wreck was that of the Sea Venture.
The stamp collection will be available at the following Bermuda Post Offices from December 20th, 2018.
General Post Office Hamilton
56 Church Street, Hamilton
click here
Warwick Post Office
70 Middle Road, Warwick
click here
Mangrove Bay Post Office
Mangrove Bay Rd, Somerset Village
click here
Devonshire Post Office
2 Orange Valley Rd, North Shore Village
click here
Crawl Post Office
42 Radnor Road, Hamilton Parish
click here
Flatts Post Office
65 Middle Rd, Flatts Village
click here
Southampton Post Office
2 Church Road, Southampton
click here
St. George's Post Office
11, Water St, St.George's
click here