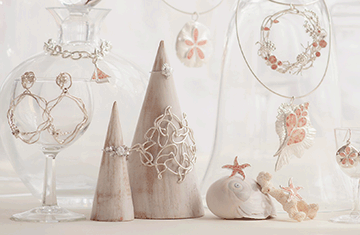 Bermudian artist Alexandra Mosher creates art jewellery designs inspired by the beautiful motifs found in Bermuda's flora and fauna, the ocean, architecture, history and culture.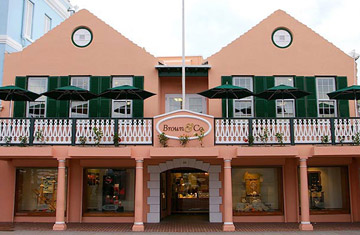 Designer fragrances, sunglasses and accessories, a full service book store, Bermuda gifts, souvenirs and apparel.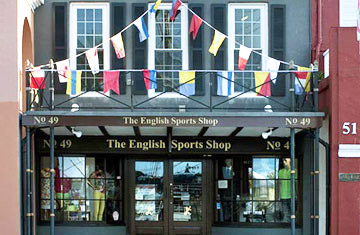 Menswear made to measure, Bermuda designed resort wear, the original Bermuda shorts and more.
You will love shopping in Bermuda. Retailers pride themselves on featuring the best selection from some of the world's top labels and there is an abundance of local talent here who offer everything from hand crafted banana dolls to authentic pink sand jewellery.
Arts, Crafts, Antiques and Bermuda Made
If you're looking for Bermudian Inspired Arts, Crafts & Antiques or specifically Bermuda Made items, you will absolutely fall in love at Harbour Nights with the islands finest artists displaying and selling their finest works. The Picturesque Gallery located inside A.S. Cooper on Front Street features a selction of prints by Bermudian Photographer Roland Skinner. A trip to The Royal Naval Dockyard, home to the Clock Tower Mall is an absolute must, where you will find a unique selection of gift ideas, Bermuda made favourites, vacation / keepsake must haves and more. Studio8.glass, also in Dockyard features a studio where you can cut, create a learn about your own artistic hand!
Books & Electronics
Shopping for Bermuda Books is pretty easy! Just stop by the Bookmart at Brown and Co where you will find the island's best selection. Electronics and related accessories can be found at P-Tech, iClick. For photo services be sure to check out PTech Photo!
Boutique Gifts and Food
The new craze seems to be cute boutique gifts and even small food items. Most shops carry a selection but a few key places to look are Marks & Spencer's and shops in St. George's a part of the Somers Wharf Shopping Complex.
Cosmetics & Perfumes
There is no sales tax in Bermuda and many of our stores follow US pricing structures so shopping for Cosmetics and Perfumes is a real treat!! Brown & Co. and A.S. Coopers carry all of the main Cosmetic and Perfume labels that you would find globally.
Essentials
Most essential items can be found at our drug stores and we have plenty of them scattered across the island. The Phoenix Stores Ltd in Hamilton is wonderful and also has a fantastic kids section.
Fashion & Accessories
Bermuda is home of some incredible designers and retailers. With no sales tax and competitive pricing, the beaches aren't the only top attraction. A.S. Cooper & Sons features 12 locations with a focus on men, women and children's fashion, Bermuda made items, cosmetics and perfume. Anne Klein, BCBG and Brooks Brothers are just a few of the major labels available. A.S. Cooper & Sons also feature a Vinyard Vines store located on Front Street.  Fabulous dresses and womens wear can be found at Boutique CC and Lusso. If you're a jeans lover then you will love Jeans Express on Queen Street. Looking for a made-to-measure suits? The English Sports Shop on Front Street features made to measure suits for men, european fashion for women and a vast array of knitwear and casual resortwear.
Home & Décor
Brown and Co is our go-to for all home and décor items and accessories.
Jewellery & Watches
Bermuda is jewellery heaven. With local artists such as pink sand jeweller Alexandra Mosher who specializes in high end wedding jewellery. Astwood Dickinson features the original Bermuda collection and exclusivity on a number of brands such as Bremont, Cartier, Hearts on Fire and more. Crisson is the Official Rolex Retailer in Bermuda and the exclusive agent for sought-after names such as David Yurman, Roberto Coin, Marco Bicego, FOPE, John Hardy, Mikimoto and Le Vian Chocolate Diamonds.
Kids Corner
For everything you need for your little munchkins, The Annex Toys, Marks & Spencer has it all. Lusso carries a few high end kids brands such as Lily Pulitzer.
Souvenirs & Beach Wear
Flying Colours and A.S. Cooper are the place to go for souvenirs, both classic and unique. They also have fabulous affordable resort and beach wear. The English Sports Shop and Marks & Spencer also carry an excellent selection of Resort Wear and for a more high end selection of labels visit Lusso on Front Street. Somers Wharf Shopping & Dining Complex has much to offer in the Beachwear and Souvenir department.
Sunday Guide
Most shops are closed in Bermuda on Sunday's however there are a few essentials who happily open their doors including Phoenix Stores, Brown and Co and Royal Naval Dockyard.
Wine Spirits & Tobacco
An excellent selection of Cigars can be found at Chatham House and specialty wines and food at Marks & Spencer.