By Nadia Hall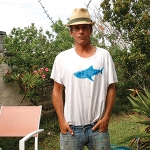 While not strictly a landscape, James Cooper's subaqueous scene has all the serene elements of traditional landscape art with, on closer inspection, a very different message. While perhaps not as challenging to digest as some of his past works, it remains gorgeous to look at. Presented as a diptych, a split image of the seabed – still and hazy, with a single piece of blue Perspex layered across the two panels – occupies a generous section of the National Gallery wall. It acts as a sort of rudimentary filter, giving another way of seeing things. On first viewing it the Plexiglas was propped up by two cinder blocks that have since been removed, a paring down or adjustment typical of the artist. He is always seeking to minimize wherever possible, a work in progress that, I suspect, leaks into all aspects of Cooper's life. Attracted to the sculptural quality of the coral reefs, the piece is a natural progression from his previous works, all photographs, many of which included subjects wearing helmet 'sculptures' made by the artist himself comprised of various everyday objects tacked to the ubiquitous (Bermudian) biker's helmet. Underwater photography is something of a trademark. His early portraits explored the sculptural effects made possible by underwater weightlessness using various props.
His surrealist undersea set-ups certainly got him noticed. He's been invited to exhibit all over the Caribbean and North America after his works garnered much attention on the Internet. Challenging the notion that island art should be "paintings of a hibiscus" his work is an antidote to what he describes as the "propaganda" of pretty beach vistas. It's a powerful word – hyperbolic, no doubt – and one that gets your attention. The title of a former series, 'Everyone Take the Same Pictures,' was a similarly bold dig, not at the artists themselves, but the audience's expectations. In a small society it's easy for a single artist to seemingly influence the rest, which is something he seems keen to avoid. Bermuda does not share the same rich art history as the more southerly islands, something he feels in many ways has both saved us from an oppressive influence but also hindered, for lack of a supportive arts community. Times are different now. With the World Wide Web we are no longer quite so remote or isolated. But these limitations do have their advantages, he assures me. In the same way the framework of a group shows theme gives his work intention, the constraints of local printers forced him to create a split canvas, which he was ultimately rather pleased with.
James' proficiency, he insists, is not in his skill but in the strength of his ideas, a humble analysis that belies the clearly captivating qualities of his arresting images. "I like photography. I like the immediacy of it and what I can achieve on computers," he explains. "Sometimes I work in a way where I'm producing a load at once and then I go through a stagnant period." His work is in a constant state of evolution with an ever-moving end game in mind. And, like the cinder blocks that once supported 'Warwick Reef,' I wouldn't be surprised to see him ditch the camera in the future, deeming it superfluous, removing yet another veil, further reducing to reveal something else entirely.
Watch this space.
Website: www.atlanticjuice.tumblr.com