Bermuda cuisine is often superb in taste and texture. But they are for those who do not have to watch their weight or calorie or cholesterol count!
Note that "Bermuda cuisine" really means how the food is prepared or served, unlike in most other countries where it is also caught or grown or distilled or manufactured. Not many local websites will tell visitors and newcomers to note that almost all Bermuda cuisine and other cuisines are imported and that almost all food including restaurant food sold in Bermuda comes from overseas, mostly from the USA, and is resold here at prices often very appreciably more expensive than restaurants in the USA. After March, local lobster, very expensive by American standards – especially in MA, ME, CT, MD, RI and SC – is not available until at least the fall. At other times of the year, if lobster is on the menu, it will be Maine or Canadian lobster.
There are no local kosher foods. Books on Bermuda Cuisine include:
– Bermuda Cookbook (The). By Cecile C. Snaith.
– Bermuda Cookery. Bermuda Junior Service League (BJSL), a women's volunteer organization dedicated to improving the local community. Bermuda cuisine and culture. Sold a quarter of a million copies over a period of three decades. BJSL used the funds from the first book to run the Deliverance in St. George's for twenty years, and build a playground and a rape crisis centre, among other projects.
– Bermuda Traditions. 2009. Veteran Bermudian chef Fred Ming.
– Bermuda Traditions and Tastes. Judith Wadson. 1997. Origin of Island holidays and their cuisine. 48 pages. $15
– Home Made Cooking Good 'Nuff for Sharing. Compiled by Vernon Temple AME Church.
– Island Thyme, Tastes and Traditions of Bermuda. 2004. $37.95. Much bigger successor of Bermuda Cookery. Bermuda Junior Service League (BJSL). Bermuda cuisine and culture. 256 pages with more than 200 recipes and colour photos of Bermuda cooking, traditions and celebrations. Published in the USA by The Cookbook Marketplace.
– Sundays with Codfish and Potatoes. 2002. By UK-born Chef Mathew Line who then lived and worked in Bermuda.
– Tastes of Bermuda. 1996. Ed Bottone. $9.95. Author is "The Curious Cook" food writer and cook. A gastronomic tour of his favorite restaurants and Pubs.
– Traditional Bermuda Recipes. The Sunshine League.
Bermuda Cuisine:
Ales and beers. Dockyard Brewing, a micro brewery, makes local ales and beers for its tavern at Dockyard.
Avocado. Once prolific in Bermuda, with huge pears growing the grafted kind but almost completely gone now. Today, 99.99 percent of avocados bought for eating are imported. Bermuda imports more than two million a year. There are local recipes for avocado soup and guacamole dip.
Banana Meatloaf or Banana Scallops. Like a regular meatloaf, but add 2 beaten eggs, 1.5 cups mashed bananas and 3 strips bacon. Scallops are made with 1 egg, 1 teaspoon salt, 6 firm bananas still slightly green, 0.75 cup cornflake crumbs. Beat egg and salt. Peel and cut bananas into 1-inch pieces. Dip in egg, drain, roll in crumbs, fry in hot deep fat for about 2 minutes. Drain when brown, exceptional with garlic mayonnaise.
Bay grape jelly. From cooked berries of female bay grape trees (Coccobola uviferal) – like purple grapes. Edible but astringent, with a sweetish acid taste. About 25 pounds of fruit will make 5 jars of jelly. Elsewhere, known as sea grape or kino or platterleaf.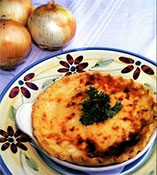 Bermuda Onion jam, soup, tart. Onions play an important part in Bermuda's heritage. At one time, Bermudians were nicknamed 'onions.' In the 1800s Bermuda was known the world over for its onions which had a sweet, mild flavor. Unfortunately, Texas started to grow their own mild onions and shut down the Bermuda onion export market. The traditional Bermuda onion is similar to a Vidalia onion.
Bean soup. Two types. Black-eyed bean soup is a Bermudian ( imported beans) and South American dish. Portuguese red bean soup, also from imported beans, is tasty but can be spicy. Often featured on local menus. The Portuguese from the Azores who first came to Bermuda 150 years ago brought the black-eyed and red bean soup methodology with them. The late great American comedian and humorist Bob Hope, during his 1990 visit to Bermuda to tape his NBC Christmas Special, had some, gasped, ate avidly and said: "Every restaurant here has a smoking and non-smoking section. The smoking section's for people who eating the Portuguese red bean soup. It won't just put hair on your chest, it'll give it a permanent. I had too much of it the other day, belched in bed and set off the sprinkler system."
Bibby. A beer, made in the 17th century from fermented palmetto (Sabal bermudiana) berries. Early colonists uprooted palmetto trees for it. No longer available.
Cassava pie. An authentic original Bermuda savory recipe. It dates back to before 1612 when the first settlers from England grew the cassava root, long used by the Indians of the New World, for flour. It has 12 to 18 eggs, 10 lbs of cassava, a whole boiled chicken, 2 lbs of sugar, 2 lbs of pork, nutmeg, mace and more. Early colonists found bird's eggs and wild pigs in abundance. Nowadays, cassava is imported. Delicious but fattening, not good for vegetarians! There are various cassava pie recipes, some of which specify chicken instead of pork and farina as well as cassava. But the most flavorful recipe has both meats.
Cedar berry beer or wine. No longer common, made from the berries of the local cedar tree (a juniper). The cedar tree suffered an island-wide blight in the 1950s and has never fully recovered, so berries are quite scarce.
Cherry foods and wine. Jams, jellies, pies, sherbets, walnut bread and wine, made from local cherries that look like miniature pumpkins – ribbed Surinam variety, growing freely on many hedges. They are red (ripening from orange red) when ripe in March to June. Originally a 19th century import from Grenada that became naturalized in Bermuda. A dessert is Flaming Surinam Cherries – served with rum and vanilla ice cream.
Christmas puddings (originally a porridge called frumenty), an ancient traditionally British wheat dish filled with dried fruits, invariably spirits – brandy – in a generous amount. It acts as a preservative. In the 1600s these puddings were banned by the Puritans. Rich and rife with calories! Here in Bermuda it is rare or impossible to find a store-bought locally-made Christmas pudding. They are usually made well in advance, by Bermudians or Bermuda residents, at an estimated cost of $20 including high import duties for always-imported ingredients. In the UK, where they originated, in and before the Christmas season it is common to see them in Marks and Spencer, other major supermarkets and stores like Aldi and Lidl, for £2-5 sterling each.
Codfish and bananas. A Bermuda variation (with the bananas) of a popular Mediterranean dish. With frozen salted codfish always imported from Nova Scotia or USA. Served with local bananas, the fig type. A typical Bermudian Sunday breakfast, so popular it is featured at many restaurants catering to both locals and tourists. Variations include with avocado, creamed codfish and codfish cakes.
Conch. Once a popular local dish, but no longer legal. Fisheries (Protected Species) Order 1978 states Queen Conch (Strombus Gigas) and Harbour Conch (Strombus Costatus) are illegal to import, an offence to purchase, possess and obtain from Bermuda waters. Thus no longer on any legal menus in Bermuda but still popular in some parts of the Caribbean 900 miles south.
Dark and Stormy. See under "Ginger Beer" and "Rum and Ginger Beer soda" below.
Dried Mullet Roe. An old Bermudian – St. David's Island – dish made from mullet roe and guts, served for breakfast.
Fish chowder. A Bermudian British dish that came over with the first colonists, not an original American dish. A spicy Bermudian soup. It begins with a good stock, rich and flavorful, made from fresh local de-boned fish, with fish heads and tails used. Other ingredients include water, bacon fat, a diced pawpaw, parsley, salt and ground pepper, black rum and sherry peppers, onion, carrots, celery, bay leaves, peppercorns, cloves, canned tomatoes, thyme. 2 pounds of potatoes. Splash liberally with more rum and sherry peppers. Long, slow simmering is the key. A meal by itself or as an appetizer. It is different in content, taste and texture to any New England style fish or clam chowder. It should not be too watery or over thickened with corn starch or with too much tomato paste. The best recipe has boiled up fish carcasses. Close to it – in texture, not taste – are Maryland's crab cakes and North Carolina's she crab soup. Also common in southern and western France where the soupe de poisson – fish soup – is made in similar fashion but with smaller fish from the Mediterranean and served with rouille and croutons to give it unblemished flavor. Similar in some ways to Scottish dish Cullen Skink except the latter is always made from smoked fish.
Ginger beer – quite different to ginger ale – was invented in the UK in the 1700s, was and still is that one of that nation's favorite soft, carbonated, non-alcoholic drinks by far, for well over 150 years. In the UK, supermarkets sell their own brand, such as ASDA, Co-op, Tesco, Waitrose and others. In 2015, the price for a 2-litre plastic bottle is about O.70 pence sterling, or about US and Bermuda $1.10. Once, the UK had more than 3,000 breweries dedicated to ginger beer. Initially, it was both a soft drink as it is now in Bermuda and elsewhere and a uniquely British-UK intoxicating beverage averaging a heady 11% alcohol content. Crabbe's alcoholic ginger beer of Edinburgh, Scotland, North Britain, is an example, still in production. The term "ginger beer" derives from the original alcoholic version (also now sold by Famous Grouse whisky in Scotland). By default, the name later included the non-alcoholic soft drink version even though it is neither any kind of beer nor made like one. In the 1800s, ginger beer became a popular export to the USA, initially from England, later from Canada also. The technological superiority at the time of English potters is primarily the reason for this. The fermented ginger beer was bottled in ornate stoneware flasks called Improved Bristol glaze. Later, bottles that replaced the flasks had stout corks and wire to ensure the pressure was maintained and to help guarantee a long shelf life. Barritt's Bermuda Stone Ginger Beer, sold as a Bermuda product, is actually now (since the end of 2010) produced in Florida from a special concentrate made in Milton Keynes, England, derived from raw Jamaican and African ginger. The soft drink, which is not uniquely Bermudian for the reasons given above and below, has nevertheless been sold continuously in Bermuda since 1874 and many places in other British Commonwealth countries. It stems from when the Royal Navy, which once had a major Royal Navy military base in Bermuda, brought the idea over from another then-major Royal Navy base at Scapa Flow in northern Scotland, UK, and created the first Bermuda-based non-alcoholic ginger beer bottling plant. Non-commissioned sailors of the Royal Navy at Scapa Flow had discovered ginger beer was a tasty and more thirst-quenching edition to what was then their daily tot of mostly Demerara or Barbados rum. This is directly how the drink became Bermuda-naturalized. At one time there were several competing ginger beer bottling plants in Bermuda. There, it now costs from US$ 4.00 for a 2 liter plastic bottle. Gosling's also has it in imported cans. In Bermuda, ginger beer sells for about four times the cost in the UK. Barritt's Bermuda Stone Ginger Beer is one half of the national Dark 'n' Stormy drink, with the other half made from imported rum. In North America, non-alcoholic ginger beer is made and available in Canada, Connecticut, Maine, Massachusetts, Rhode Island and Maryland.
Honey. Bermuda honey is more expensive than the imported product from Canada and the USA, but preferred by locals. Bees were first imported on a British ship in 1616 when English colonist Robert Rich received some sent to him by his cousin Sir Nathaniel Rich. He began the local beekeeping micro-industry. In contrast, bees were not imported from England to the USA until six years later. Bees and beeswax were exported for many years in small quantities from Bermuda to USA and Caribbean. In Bermuda, bees luxuriate in a number of flowering shrubs and trees. A teaspoon of Bermuda honey taken with tea is a powerful aphrodisiac. Typically, there are two honey flows a year., a minor one in June to July and a major one in September to October. Beekeepers normally harvest honey following these flows. with most of the local honey in the fall flow. It is not generally realized that when one speaks disparagingly of the "invasive" flora of Bermuda, local bees like the invasive flora best for nectar, in particular the Mexican pepper.
Hoppin' John and paw paw Montespan. (No known relationship to Montespan in France). Hoppin' John is a 17th century British dish from Bristol named after a slave and made with bacon, still popular in British regional cooking and better restaurants. Hoppin' John and paw paw Montespan, is a local variation, allegedly thought of by an 18th century French prisoner-of-war detailed in Bermuda, is a rich, savory dish of black eyed peas, top round ground beef cooked with tomatoes and paw paw, served with a generous helping of rice. Tasty! If you prefer, you can make the dishes separately. Local paw paw, almost a wild fruit these days, is a much smaller and less sweet version of the large and sweeter and more fruity papaya of Hawaii and the Caribbean (not grown in Bermuda.
Loquat foods and liqueur. From the Loquat (Eriobotrya japonica). Introduced from the Orient by Governor Reid in 1850 as a fruit crop. It is a luxuriant tree that thrives in sheltered areas. The yellow-orange plum-like fruit ripens in the late winter or early spring. They are tart but delicious, fresh or preserved, as a relish or liqueur. Loquat liqueur is a very smooth but potent, using gin, vodka or rum as the spirit base. Loquats were imported to get local birds to stop eating expensive Bermuda citrus. Bermudians eat ripe loquats straight off the tree, stewed, or embodied in dishes and drinks. Loquats often grow wild. Loquat cake is unusual. Loquat chutney has a nice piquancy as a choice condiment for cold meats. Loquat jam and ginger jam are delicious on toast or bread or mingled with peanut butter. Loquat jelly is unique. Loquat pies make good eating, especially with a whipped cream topping. Loquat soufflé is excellent. Loquat wine has also been made in Bermuda.
Milk Punch. Lemons, milk and black rum.
Mussels. Mussels come from local waters and Bermudian chefs often serve them slightly curried in a thick mussel stew in a pastry shell; or as mussel fritters or steamed mussels, or mussel pie.
Onion dishes. All these are best with Bermuda grown onions. They include an Onion Casserole recipe; Onion Biscuit Bread; Onion Soup that includes bacon, coffee cream and Swiss cheese; Onion Pie; Onion Soufflé.
Outerbridge's Sherry peppers. If you sample Bermuda Fish Chowder during your stay, a good restaurant will offer a cruet or small bottle of this condiment from which to extract a few drops to enhance the distinctive flavor and aroma of the dish. The commercial local version of this condiment, when made by Bermudian the late Yeaton Outerbridge, his son Doug and cousin Robbie, is a special blend of sherry and peppers. It is made from a secret recipe of 17 peppers, sherry wine and a variety of herbs. Royal Navy sailors first made this dish popular, to make their rations more interesting. They used to add it to their meals to mask the taste of food gone bad – it added that bit of zest that made the meals bearable. Available at all local major supermarket stores. Similar to the hot pepper sauce produced in the American Deep South.
Paw Paw Casserole. Interesting local dish.
Rum. Imported to Bermuda, not made here as assumed by many visitors (sugar cane is not grown commercially and the climate is not right). The "Product of Bermuda" label on a brand of rum is not accurate compared to what is required to be carried by jurisdictions abroad on bottles of rum purchased there, all of which show the country or countries of origin of the rum. Imported into Bermuda as a rum distillate in casks from various Caribbean places 800 miles or more away from Bermuda, including Barbados, Guyana and Trinidad. In 1860, Gosling Brothers Ltd. imported its first barrels of Caribbean rum into Bermuda. Numerous different blends were tried until one was formulated and deemed ideal, now known as Black Seal Rum. Gosling's Black Seal (named after the black was used to seal the bottle), a quality product, is still produced using a blend of pot and column still rums imported into Bermuda and aged 3 years in ex-bourbon barrels and blended, in Bermuda for local consumption or in the USA for that and other markets. It retails in the UK for about £25 a 70 litre bottle for 40% proof, less in the USA.
Rum and ginger beer soda. Long before they first became popular here, Britain's Royal Navy had a prominent regional name for the dark rum originally from Demerara (formerly British Guinea, now Guyana) and then Barbados and ginger beer drink originally from England. The Royal Navy also had its own ginger beer bottling plant at its former naval base in Bermuda and used ginger beer ingredients imported from England long before there were any civilian bottling plants for ginger beer non-alcoholic soda in Bermuda. Royal Navy ratings and petty officers – all of them non-commissioned – found that non-alcoholic ginger beer added to their daily tot of black rum was a great and cheap way to make the tipple even more satisfying. They deemed it a "Scapa Flow" as a suitable alcoholic salute to the Royal Navy base at Scapa Flow in the Orkney Islands of the North Atlantic, north of the northernmost mainland of Scotland, until after the end of World War 2. Gosling's later coined their own now-trademarked name for it, a dark and stormy. Persons who drink it are legally entitled entitled to this name only when it is made from Gosling's rum. Otherwise, they should call it a "Scapa Flow." To make it, add up to 5 parts of ginger beer for every one of rum. For extra flavor, squeeze a little fresh lime into the drink. In 1995, an off-duty Scottish loch keeper on the Caledonian Canal sighed in deep pleasure when offered the drink by this author and his wife, asked for another shortly afterwards, told the author with a great smile "it wraps a hairy worm around the heart" and confirmed from his own experience and that of his father, grandfather and great-grandfather all once in the Royal Navy, all of whom referred to it as such, that it was a "Scapa Flow" – after the Scottish body of water made famous by the Royal Navy as a key anchorage, a sound. Scapa Flow, famous especially as a former strategic Royal Navy base, and at which German naval vessels after World Wars 1 and 2 were sunk, is surrounded by Mainland, Hoy and South Ronaldsay. Interestingly, Royal Navy officers, including those who during their Bermuda posting founded the Royal Bermuda Yacht Club, would never drink a Scapa Flow, considered a working man's or below-decks drink, as was rum. Instead, they invariably drank a gin and tonic.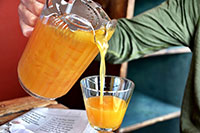 Rum Swizzle. The rum of the rum swizzle is not distilled here. Rum Swizzle ingredients include 6 ounces of imported black rum, 6 ounces of another lighter rum, 1 ounce of imported apricot brandy, juice of four local or imported limes or lemons, 1.5 ounces of local or imported honey and 4 dashes of bitters imported from Trinidad and Tobago.
Shandy. A British style drink, popular with British expatriates, originating from the UK. It is made from imported lager beer and ginger beer or lemonade in quantities to suit individual tastes. If you do not like ginger beer, Sprite will do. (In the UK, you can buy already-mixed shandy from all supermarkets for about 45p a 2-litre bottle).
Shark fritters or hash. Sharks are common beyond Bermuda's reefs and are a favorite of some Bermudians, as shark fritters or shark hash.
Shrub. A drink made from Bermuda sour oranges, lemons and rum liqueur.
Snapper. Baked red snapper is a choice dish when caught in Bermuda waters.
Stonehole Stew. So-called as it originated at Stonehole Bay, South Shore, off South Road, west of Warwick Long Bay, located between Chaplin Bay and Jobson's Cove, at the extreme western end of Warwick parish. It is one of the prettiest of all Bermuda's south shore coves. The beach is so-called because of a gaping hole in a cliff-top coral formation that gives the stunning natural stone frame view. Directly north of it on the land side of the South Road is the former British Army's Warwick Camp (later taken over by the Bermuda Regiment), for many years it was a favorite haunt of British Army regiments once quartered there in whole or in part. And because of this, they originally devised what later became known as Stonehole Stew, in commemoration of the beach. This unique stew was a culinary mix of initially British Army later civilian locally grown pumpkins, white or red and sweet potatoes, onions and salted imported beef traditionally cooked on camp fires in a three-legged iron pot.
Sweet potato pudding. Made from local sweet potatoes which are a light green compared to orange yams from overseas. It can be served with lunch or dinner. When fireworks were legal in Bermuda on November 5 – for what in the United Kingdom is still Guy Fawke's Day – it was served with cedar berry beer.
Syllabub. A monster of a dessert made in Bermuda with layers of guava jelly, thick cream and sherry. Yes, guavas can be grown successfully in Bermuda! Syllabub is originally English, dating back to the days of King Henry VIII, if not before.
Tea. Mostly prepared the American way, in tea bags, not surprising considering 85% of all visitors are American, only 5% British UK nationals – not the British way, in tea pots and with leaf tea. Tea is not grown in Bermuda and the only imported tea available is for American palates. Britons should bring in stronger tea made for British markets. Green tea – American or Asian or Indian – is said to be an anti-oxidant, good for those with a cholesterol problem.
Turbot Stew. Another interesting local seafood dish.
Wahoo. Since 1609, this has been the name of a species of game fish still caught in local waters (but not solely). It is a distinctive Bermudian dish, expensive. David Letterman and Wahoo in Nebraska made the name popular in the USA. One good dish is a wahoo salad which will serve a family of four, is nutritious, delicious and healthy. Its ingredients are two carrots, two ounces pickled ginger, a handful of dry cranberries, one bag arugula, one lemon, one lime, six to eight ounces wahoo, two tablespoons virgin olive oil, a dash of rice vinegar or cider vinegar, dash of salt and pepper, soy sauce for dipping. Thinly slice the carrots and toss in the dash of rice vinegar or cider vinegar. Put the arugula in a mixing bowl with the dash of salt and pepper and add the olive oil, cranberries, ginger and juice and a bit of zest from the lemon and lime. Toss it and plate it. Slice the fish. Add it to the plates raw, sear it for 30 seconds to a minute on each side for medium rare, or longer for personal preference.