by Horst Augustinovic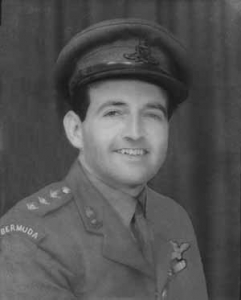 Born in Pembroke in 1917 and educated at Saltus Grammar School and Ridley College in Canada, Richard Matthew Gorham enlisted in the Bermuda Volunteer Engineers in 1938 and was attached to the signalling division at the Royal Naval Dockyard. Still a Corporal, he suggested an emergency method of visual signalling when a wireless transmitter broke down and this was soon followed by his promotion to Lieutenant.
When the Second World War was declared, the Royal Air Force was having difficulty providing effective Air Observation Post pilots to the British Army and it was decided to instead use Army officers who were proficient at directing artillery fire, and train them to pilot light aircraft, acting as artillery spotters. Lieutenant Gorham immediately requested to train for this role and, with the encouragement of his commanding officer Major Cecil Montgomery-Moore, DFC who transferred from the BVRC to the Royal Flying Corps during the First World War, was detached from the BVE to travel to England for the training.
Transferred to the Royal Artillery and posted to RAF Hatfield for his basic flight training, he was next sent to the Signals Flying Training School at Old Sarum for advanced training and finally to 654 Squadron in Yorkshire where he trained in operating from aircraft carriers. His training complete, Lieutenant Gorham was first sent to North Africa and later joined 655 Squadron in Italy where he was in command of B Flight when he played a pivotal role in the Battle of Monte Cassino.
Patrolling ahead of the British 5th Division, he spotted a large number of half-tracked German vehicles advancing on the British positions. Calling up for control of all the Allied artillery pieces in the area, he directed their fire on the German division. The bombardment continued all day, with Lieutenant Gorham taking turns with other pilots in directing the fire. This action destroyed the Germans' ability to maintain any useful defense of Monte Cassino, with the British forces breaking through four days later. For this action he received the Distinguished Flying Cross, a relative rarity for an Army officer as DFCs were normally awarded to RAF pilots.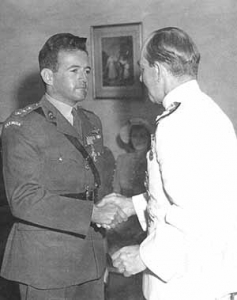 Returning to Bermuda with the rank of Captain, Richard Gorham found that the BVE had disbanded, so he subsequently served in the BVRC for a number of years. In 1953 he was part of the detachment sent to the coronation of Queen Elizabeth II. Apart from his career in the Armed Forces, Richard Gorham was a prominent businessman, politician and philantopist.
An Honorary Colonel of the Royal Artillery and a Knight Bachelor, Sir Richard Matthew Gorham CBE, DFC, JP died in 2006.