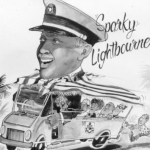 By Horst Augustinovic
Sparky Lightbourne was born on February 26th 1923 in Pembroke, the second of five children. During a happy childhood riding his beloved pedal bike, playing marbles and flying kites – and getting into all sorts of trouble doing all of the above – Sparky entered nursery school at age four, and Central School at age seven.
According to Dr. Andrea Lightbourne, Sparky's niece and author of 'Light the Spark', in Sparky's opinion, 'it was the instruction that he received at Central School that provided the foundation for his success. He learned life skills like punctuality, manners, tidiness and he also learned to take pride in his appearance and his achievements. Sparky felt a deep sense of gratitude for all that his Central School teachers had taught him'.
Having sold newspapers and worked as grocery boy and dishwasher, Sparky started his career at age seventeen as a deck hand on Darrell's Island. Two years later – in 1942 – Sparky became a licensed boat pilot, earning four pounds and ten pence a week and being on call twenty-four hours a day! One day, while transporting passengers back and forth from Darrell's Island to Darrell's Wharf, Belmont and Spit Head, a BOAC captain approached Sparky: 'What is your name young man?' 'Hubert Sparky Lightbourne, sir' came the reply. 'Every time I see you, you are so immaculately dressed' commented the captain. One of Sparky's friends recalled 'Sparky's pants were so well pressed that the seams could cut your hand like a blade!'
In 1952 Sparky Lightbourne joined the Public Transportation Department where he worked for thirty-five years as bus operator. For twenty-two and a half of those years he never claimed a sick day, which earned him the Queen's Certificate from Queen Elizabeth II. Sparky came in contact with people from all across the world and promoted Bermuda whenever he could, pointing out places of interest to visitors.
In 1961 Sparky became the first Bermudian to receive a Qualified Tour Guide Certificate and this was followed by numerous awards and commendations. The most lasting tribute to Sparky must surely be the naming of the new City of Hamilton Bus Terminal as the 'Sparky Lightbourne Bus Terminal'.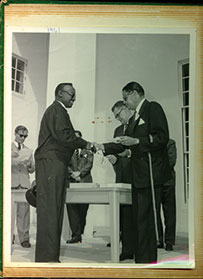 Sparky Lightbourne at the wheel of a Bermuda Government bus; receiving the first ever Qualified Tour Guide Certificate from former Member of Parliament W.L. Tucker and James Williams, former Director of Tourism; and in a cartoon by Walt Horton.
For more about the life of Sparky Lightbourne see 'Light the Spark' by Andrea Lightbourne, available at select bookstores or from Print Link at 295-4343.