Featuring Mr & Mrs Laureno & Alexandra Lima
Are you planning a wedding?  If the answer is yes, then consider getting married on our picturesque island. Bermuda has all the essentials (and more) to create the wedding of your dreams! Whether that is an intimate ceremony on the beach or a grand event at the stunning Unfinished Church in St. George's, there is no shortage of dreamy settings to choose from on this island. For some inspiration we asked Bermuda.com's Alexandra Lima, to share her Bermuda-wedding experience with you.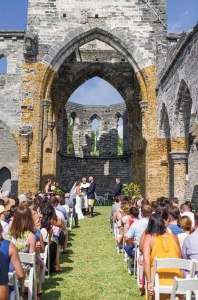 You were married at the Unfinished Church. Did the rest of the activities take place in the Olde Town of St. George and if so where and what did you and your guests get up to?
We were so thrilled to be married at the Unfinished Church, where we were whisked away via horse and carriage after the ceremony to our reception and cocktail hour. Guests boarded the St. Georges Train Co. and traveled to the historic Fort St. Catherine, where signature cocktail's were taken in as well as the stunning panoramic views. The boom of a cannon signified the beginning of dinner hour and guests made their way to neighboring restaurant "The Beach House", where we dined on a traditional Bermudian buffet and danced the night away under the stars.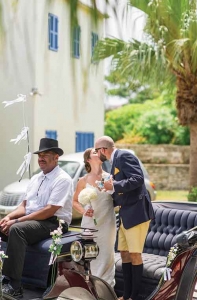 Planning such a big day is bound to come with its complications, if you could change anything what would you have done differently?
We were very fortunate to have such lovely people helping us with our wedding, from flowers to hair & makeup and venues; everything was exactly how we imagined it would be and more. We did not have a Wedding Planner, but relied on our family and friends to help us in any way they could. If we had a professional helping us, it might have alleviated some of the stress from our family. (especially at the end of the night when we ran out of cabs!)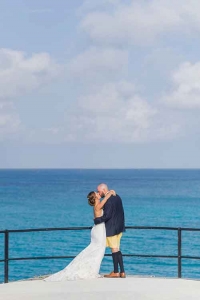 What was your favorite part of it all?
Every detail completely exceeded our expectations of what the day would feel like. The best part is, looking back through all the photo's and reliving all those amazing memories.
Do you have any tips or advice for a couple planning their perfect Bermuda wedding?
Be open to how things will unfold during the planning process as well as the day itself. If you are flexible, you may find ideas or help in unexpected places.
Planning a Bermuda Wedding? Visit Weddings and Honeymoons to learn more about your destination wedding options.