Ten ways to keep the kids happy.
By Brigitta Wohlmuth
Vacation can easily become hard work when you have to think about accomodating everyone's  interests. But these suggestions should silence the whining as you experience Family Fun in Bermuda!
Splash around at Dolphin Quest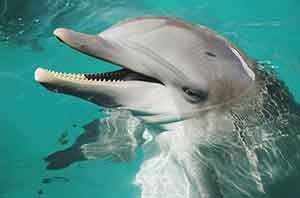 These friendly animals love to show off. Catch a free show with your admission into the Keep in Dockyard. Or, book a special encounter sure to give your child the memory of a lifetime. Children as young as 3 years old can interact with the dolphins, by feeding and touching. While older kids can swim with the dolphins as well. But whether or not you get in the water, just watching them swim, jump and splash around will entertain the whole family.
Snorkeling & Mini Golf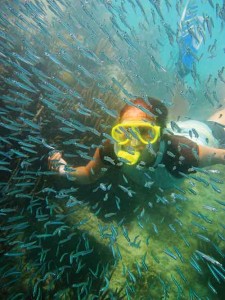 At Snorkel Park in Dockyard, adults can have drinks at their cabana bar while the kids play in the sand. Or they can rent a snorkel and mask to explore the beach below sea-level. After that, why not cap off the afternoon with a round of mini golf?  Directly adjacent to Snorkel Park is the Bermuda Fun Golf course, where the whole family can play 18 challenging holes with the beautiful blue ocean in the background.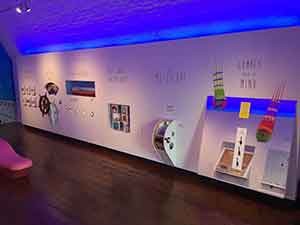 Explore the new Playhouse at Bermuda's Martime Museum 
The National Museum of Bermuda recently opened their new Playhouse, featuring 15 interactive exhibits for little ones. The Playhouse was designed by local dads, who wanted to create a unique museum exhibit that would be exiting and engaging for young children. The playhouse chronicles Bermuda's history in a colorful, imaginitive, and screenless way.
Discover the exhibits at the BUEI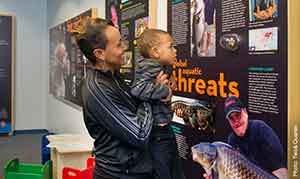 The Bermuda Underwater Exploration Institute in Devonshire parish is a great place to stimulate the minds of budding Jacque Cousteaus. There, kids can dive into the depths of the sea and live to tell the tale of being attacked by sharks and a giant squid! Their newest exhibit 'The America's Cup Endeavor' even allows  kids to practice sailing a foiling catamaran on the Great Sound in a virtual simulator.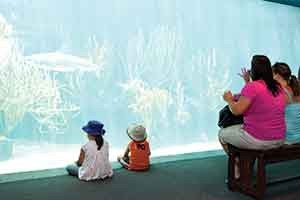 Spend some time at BAMZ
You'll want to reserve at least 2 hours to fully experience all that Bermuda's Aquarium, Museum and Zoo has to offer. This all-in-one complex promises a fun, exiting, and educational experience for the whole family. There are surprises at  every corner, with more than 200 species of marine life and over 300 varieties of birds, reptiles and mammals on display. Many of the exhibits have free-flight immersion areas that allow you to see the animals roaming freely as they would in nature. bamz.org
Plan a picnic at Shelly Bay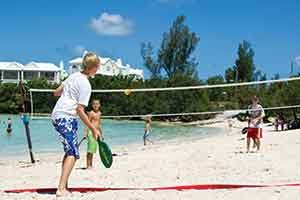 Low tide beaches like this one in Hamilton Parish are great for small children. Shelly Bay has shallow crystal clear waters that extend for nearly half a mile before getting deep, perfect for little ones who are still learning how to swim. There's also a large playground and park right behind the beach with some nice shaded areas provided by trees. Plan for a picnic here after visiting BAMZ. Tobacco Bay in St. George's is another nice shallow beach with many facilities.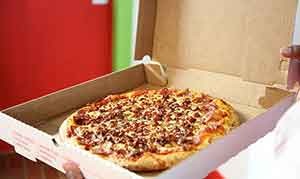 Pizza, Ice Cream & Snowballs
Pit stops are essential to keep the kiddos smiling. On your way to and from site-seeing, stop for a slice of everyone's favourite finger-food at Pizza House in St. Davids, Hamilton Parish or Southhampton. In Hamilton Parish you can also take the kids to Bailey's Ice Cream Parlour for delicious home-made ice cream. Or, next time you're in the City try a Snowy's snowball from their stand in front of the City Hall Car Park.
Check out Harbour Nights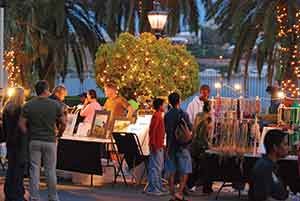 There's much more to Harbour Nights than dancing Gombeys and vendors selling their crafts. Zip-lining, assorted fun-castles, face-painting, and mini donuts are just a few of the highlights in store for kids at this weekly street festival on Hamilton's Front Street. It happens every Wednesday evening, and while you watch the kids enjoy themselves you can sip on a Dark & Stormy and soak up the positive vibes all around.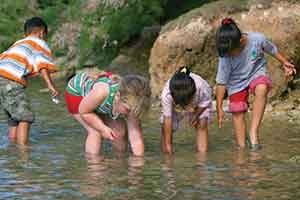 Go Exploring
In reality, kids just wanna play and all that's needed to keep them content is nature and their imagination.  Visit one of our historic forts (Fort St. Catherine in St. George's or Fort Hamilton in Pembroke) and let them pretend to be pirates or naval soldiers. Or, spend sometime exploring the island's lush parks and nature reserves (we reccommend Botanical Gardens, Spittal Pond or Tom Moore's Jungle) where they can run, jump and scaur the grounds for trinkets and treasures.
Catch a Glow Worm Cruise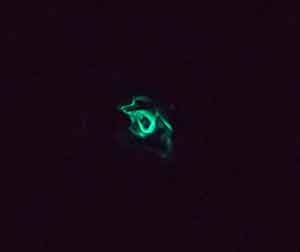 Watch a magical show of underwater fireworks, as you learn first hand about the mating ritual of Bermuda's fascinating glow worms. This amazing spectacle happens three days after the Summer's full moons. It is a wonderfully educational opportunity, and the children are sure to be mesmerized when they see the fluorescent blue-green worms dancing beneath the waters surface. Catch a cruise to see them up close, with the Ana Luna Adventures charter. analunaadventures.com