Purple Grumblies-Christmas in Bermuda
A Q&A with Mike Marsh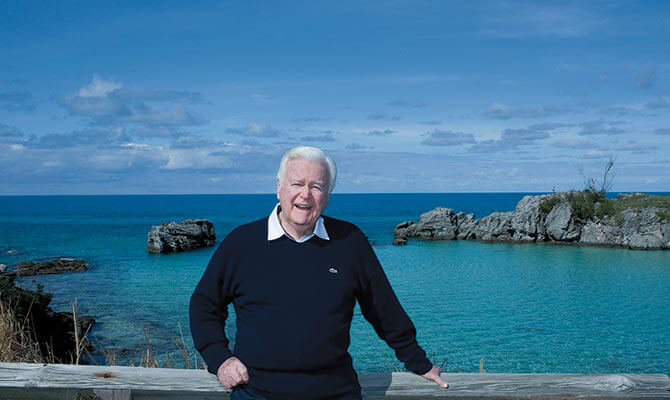 Brigitta Hi Mike! We hear you have at last written an adventure story about the Purple Grumblies which takes place in Bermuda?
Mike Yes, it's story number 15 and is called "Christmas in Bermuda". It should be in the retail outlets for this Christmas.  It can be read to children as young as 3 and, amazingly, I have found that children up to 9 or 10 enjoy reading these stories, too.
Brigitta So you've written 15 books altogether?  What is the Bermuda Adventure about?  And what about the other stories?
Mike The Bermuda story is about the Grumblies not liking to see wild animals locked up in cages for circus entertainment. Bumboo the Efelant, a friend of the Grumblies, is especially unhappy since she escaped from a circus a long time ago. Gertie, one of the fun characters, decides to do something about it… and gives Mr. Fleabag, the circus owner, the surprise of his life! Later in the story, the Grumblies go for a sail in the Spirit of Bermuda.
Brigitta And the other stories?
Mike Well, each story is different.  However, some of my personal favourites are # 7, 8 & 9 which are all about Saving the Whales.  Numbers 10, 11 & 12 are about Saving the Elephants. The Grumblies are not swashbuckling heroes, but they think outside the box to solve problems, and they don't like bullies or injustice. It's worth getting all the books in sequence. See our website at www.purplegrumblies.com.
Brigitta You haven't mentioned Percy the Dreaded Sea-Monster.  Where does he come in?
Mike Percy is a harmless Monster who likes to scare people. He falls in love with Bumboo the Efelant, but she's not interested. Percy becomes an ally of the Grumblies.  The bad guys are called the Pirate Skyrats who have a hot air balloon and are always trying to do bad things.  But the Grumblies outsmart them!
Brigitta Mike, I know you've been a Member of the Society of Authors in London for some time and you've sold your non-fiction book about the Bermuda Gunpowder Plot 1775 in Bermuda. Are you going to sell it in the USA as well?
Mike Yes. I've placed the second edition of the Gunpowder book on Amazon and it will be marketed in the USA next year.  It's a little known story about  Bermuda's connection with the American Revolution and I think it would interest American readers, and can't do any harm to Bermuda's tourist trade.
Brigitta Last question: do you have any other projects in mind?
Mike Yes. Plenty of new stories for the Purple Grumblies, of course!
For more info about The Purpple Grumblies visit www.purplegrumblies.com and look out for "Christmas in Bermuda" at local book stores!