The Bookmart Review  – Cup Match in Bermuda 
by Martin Buckley, Department Manager at The Bookmart At Brown & Co.  
Is it an exaggeration to say that the Cup Match is the most important holiday in the Bermudian calendar? Possibly, but not much of one. Cup Match embodies everything that is best about the peoples of these Islands:  hospitality, good humour, sportsmanship, friendly rivalry and the ability to throw a party to which everyone is welcome. 
The Cup Match holiday owes its origins to the heart felt celebrations which followed the passing of the Emancipation Act on August 1st 1834.  This act, which finally abolished the horror of slavery throughout the British Empire, was greeted with joy by those whom it freed.  The anniversary of Emancipation soon became an important annual celebration for communities of former slaves across Britain's colonies.  A time for thanks giving services, picnics and of course an opportunity to play that most complicated of British sports; cricket.  
Yes, cricket, lovely cricket.  To misquote the song, 'Bermudians don't like cricket, oh no, they love it' and their obsession with the game culminates every year in the annual match played between St George's and Somerset.  Loyalties are proclaimed through the wearing of club colours (blue and light blue for St George's, blue and red for Somerset) and by a sad shaking of heads when it becomes apparent that an otherwise perfectly sane acquaintance inexplicably supports the 'wrong' team.  This brief display of pity is usually followed by ribald condemnation of their choice and prophesies of forthcoming defeat. 
For generations (and formally since 1902) cricket has been at the heart of Bermuda's Emancipation celebrations.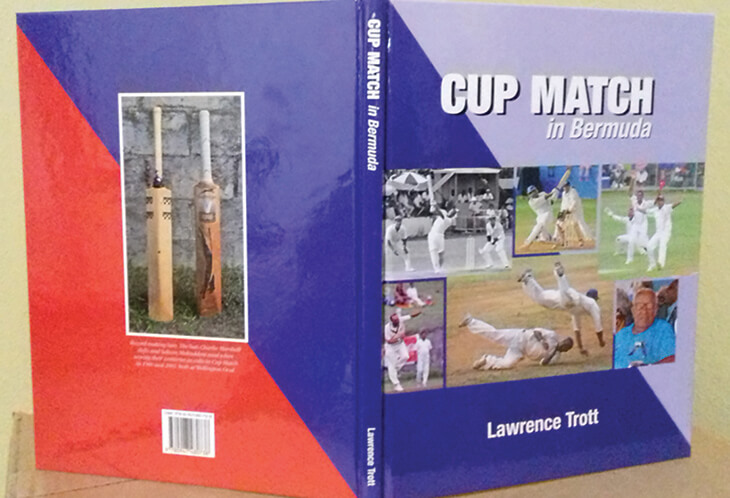 Bermudian photographer and journalist Lawrence Trott has captured the very essence of Bermuda's annual emancipation celebration in his wonderful book 'Cup Match in Bermuda'.  Its pages are lavishly illustrated with action photos of the cricket stars of today and yesterday and with images of Bermudians enjoying the big holiday of the year.  All the ingredients are here; the game played out under a blue sky, 'Jim' Woolridge's commentary, the sea of club colours dominating the spectator stands, picnics, fortunes won and lost at the Crown & Anchor tables, swizzle being enjoyed, wickets falling, sixes being struck, heroes being made, fun being had.  
Also included are tables of notable player performances, a forward by Wendell Smith, a history of Cup Match by Ira Philip MBE and John Watkins famous explanation of cricket for 'foreigners'; 'You have two sides, one out in the field and one in …'